A novel process for synthesizing high-energy density jet fuel from mint, pine, gumweed, eucalyptus or other plants has been engineered by researchers from Washington State University and the University of Nevada.
Related research has focused on synthesis of bio-jet fuels from lignocellulose, but processes developed to date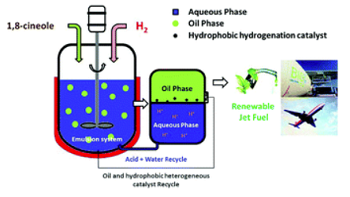 Schematic of the biphasic tandem catalytic process. Source: Washington State University fuels with low densities (~0.76 g/mL) and low volumetric heating values compared petroleum-based jet fuels. The new biphasic tandem catalytic process (biTCP), instead synthesizes cyclic hydrocarbon compounds for jet fuel from plant-based terpenoids. High yields of the cyclic hydrocarbons p-menthane, with structures that can store high levels of energy, were produced from eucalyptus oil.
The method adds both hydrophilic and hydrophobic catalysts to immiscible solvents—an organic phase and an aqueous phase—to create a biphasic environment for a cascade of chemical reactions in both phases. The catalytic technique accomplishes multiple reaction steps in a one-pot process.
The biTCP demonstrated much higher carbon efficiency than those of other single-phase processes. It offers potential to be generalized for the conversion of various biomass feedstocks to renewable hydrocarbon fuels with high carbon efficiencies.