What kind of glove can keep fingers warm for up to eight hours? One that's fashioned from electrically-heated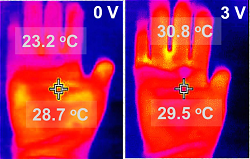 Electrically-heated gloves keep fingers as warm as the palm of the hand. (Source: University of Massachusetts Amherst)material.
Materials scientists at University of Massachusetts Amherst applied a vapor deposition method to nano-coat cotton fabric, producing weavable electrically heated cloth. The prototype is powered by a 1.8 g button battery.
The fingers of the cotton gloves were coated with the conducting polymer poly (3,4-ethylenedioxytiophene) to allow a small current to pass through and heat the material. The conductive cloth is sandwiched between two layers to prevent contact with skin. The researchers observed that four fingers of the demonstration glove warmed to the same temperature as the palm.
Adjusting temperature and chamber pressure during the vapor nano-coating process were important in achieving optimal surface coverage of the cloth. In a test of the fabric's ability to resist cracking, creasing or other changes when heated, the team generated a temperature of 28 degrees C (82.4 F) with connection to a 4.5-V battery and 45 degrees C (113 F) connected to a 6-V battery for an hour, and found no marked morphology changes, indicating that the polymer-coated cotton textile was rugged and stable enough to maintain its performance when used as a heating element
The body-conformable heated glove may be commercially available in five years.