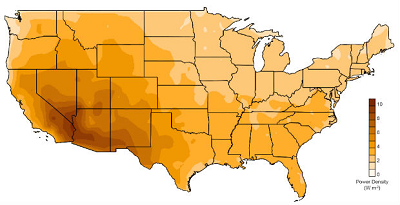 Southern and western U.S. states have the greatest capacity to produce evaporation-generated power from lakes and reservoirs. Source: Columbia University
The next big renewable energy resource might be extracted from thin air. Columbia University researchers have estimated the power available from natural evaporation from open bodies of freshwater, such as lakes and water reservoirs. The total power available in the United States approaches 325 GW, which is over 69 percent of the national electrical energy generation rate in 2015.
The analysis is based on the modeled effects and potential of an evaporation-driven engine, and on the impact of such engines on water resources and energy reliability. The researchers excluded prime locations such as farmland, rivers, the Great Lakes and coastlines to limit errors associated with modeling more complex interactions. They also made the assumption that technology to harvest energy from evaporation efficiently is fully developed.
Columbia University scientists have already demonstrated, on a very small scale, the potential for evaporation-harvested power. Electricity generated from this process can be produced on demand, in contrast to the intermittent nature of solar and wind energy.
Water conservation is an additional benefit of this technology, as evaporative water losses from lakes and reservoirs would be halved. This translates into one-fifth of the water consumed in the U.S., or 25 trillion gallonsper year.