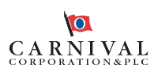 Carnival Corp. says that construction is underway for the first of seven cruise ships powered by liquefied natural gas (LNG). A keel-laying ceremony took place at Seatrade Europe in Hamburg, Germany.
In October 2016, Carnival signed an agreement with Shell Western LNG B.V. (Shell) to supply marine LNG to power the first two of its new LNG ships. As part of the agreement, the ships will use Shell's infrastructure in cruise ports.
The new ships will use LNG to generate 100 percent of their power both in port and on the open sea. The move is expected to cut exhaust emissions. The ships have delivery dates between 2018 and 2022, and will be built by German and Finnish shipbuilders Meyer Werft and Meyer Turku.
Following the introduction of AIDAnova in 2018, Carnival's Costa Cruises brand will launch its first LNG powered cruise ship in 2019; the first steel-cutting ceremony for this ship is scheduled at the Meyer Turku shipyard in early September. LNG-powered ships for Carnival Cruise Line and P&O Cruises (UK) will follow in 2020. Costa Cruises and AIDA Cruises will receive an additional LNG-powered ship in 2021, followed by an additional LNG-powered ship for Carnival Cruise Line in 2022.
In 2015, as a pilot project, AIDAsol was supplied with power by an LNG Hybrid barge. In 2016, the AIDAprima became one of the first cruise ships to routinely use LNG with a dual-fuel powered engine while in port.