In an unusual development, a team of software researchers has developed a new app that, by simply taking a "selfie," allows you to determine if you may have pancreatic cancer and other diseases.
Pancreatic cancer has only a 9 percent survival rate once it is diagnosed. The reason: there are no clear, observable symptoms to catch the tumor before it spreads. Now, a team of University of Washington software engineering researchers has developed the app BiliScreen. The software uses the smart phone camera, computer vision algorithms and some machine learning tools to detect an excess of bilirubin levels in the white region of the eye (the sclerae), which is more sensitive to bilirubin levels than the skin. A paper to be presented at Ubicomp 2017, September 13 to 15 in Maui, Hawaii, describes the app.
Alex Mariakakis, the leader of the team from the University of Washington's Paul G. Allen School of Computer Science & Engineering, explains: "The problem with pancreatic cancer is that by the time you're symptomatic, it's frequently too late. The hope is that if people can do this simple test once a month — in the privacy of their own homes — some might catch the disease early enough to undergo treatment that could save their lives."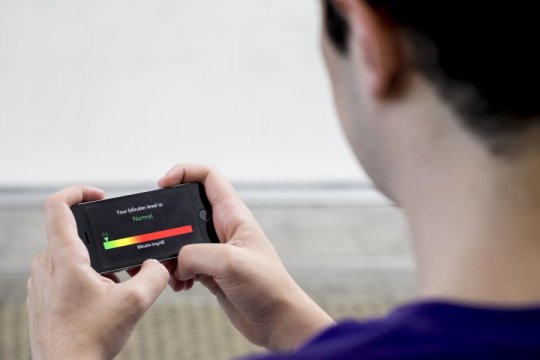 BiliScreen provides estimates of bilirubin levels in a person's blood. Elevated levels can be an early warning sign for pancreatic cancer, hepatitis and other diseases. Source: Dennis Wise/University of Washington
Pancreatic cancer can be detected by observing the development of jaundice, or icterus, which is yellowing of the skin and the sclerae when an excess of bilirubin is present in the blood. When bilirubin is minimal it is difficult to observe the yellow of the sclerae by the naked eyes, but pancreatic cancer may be active already. This is the reason the researchers at UW decided to create the software app. They thought that computer vision and artificial intelligence could detect the small level of yellow in the eye.
"The eyes are a really interesting gateway into the body — tears can tell you how much glucose you have, sclera can tell you how much bilirubin is in your blood," said senior author Shwetak Patel, the Washington Research Foundation Entrepreneurship Endowed Professor in Computer Science and Engineering and Electrical Engineering. "Our question was: Could we capture some of these changes that might lead to earlier detection with a selfie?"
The app's initial clinical study of a sample of only 70 patients identified possible cases of pancreatic cancer 89.7 percent of the time when compared to a blood test.
"This relatively small initial study shows the technology has promise," said co-author Dr. Jim Taylor, a professor in the UW Medicine Department of Pediatrics whose father died of pancreatic cancer at age 70.
"Pancreatic cancer is a terrible disease with no effective screening right now," Taylor said. "Our goal is to have more people who are unfortunate enough to get pancreatic cancer to be fortunate enough to catch it in time to have surgery that gives them a better chance of survival."
A video describing the app, produced by the University of Washington can be viewed here: https://youtu.be/xAI-95DSZi8