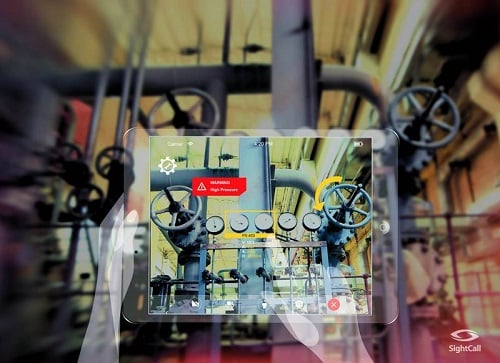 An example of the augmented reality platform in the field. Source: Coresystems Workforce management software house Coresystems has formed a partnership with SightCall to provide augmented reality functionality to Coresystems' field service platform.
The AR solution will allow technicians to use remote guidance from off-site experts while in the field. With this platform, service technicians no longer need to rely solely on phone calls or service ticket details to determine the cause of an issue. The augmented video assistance provides a better understanding of the scope of the work before a technician steps foot onto a site, improving first-time fix rates and decreasing on-site visit durations.
The features of the platform include both pre-service review and on-site support. At the beginning of the service request, video assistance can be garnered with a technician to determine the scope of the work, the tools needed for an installation or repair and how much time the project will take. While on-site, a technician can bring in support from others not at the site through augmented reality, giving those not at the site an on-screen view of the project, HD pictures, live pointers, remote annotations and more.
Additionally, AR can be used to review recorded SightCall Video Assistance inspections for validation, maintenance and remote diagnosis in the Coresystems' platform. This also allows for remote training, reducing travel cost, while at the same time providing an interactive training experience, the companies said.
"The real-time connectivity of the IoT in a mobile first world has conditioned customers to expect faster service than ever before, putting pressure on technicians who rely on traditional service methods for issue detection, such as phone calls and/or service tickets," says Thomas Cottereau, CEO of SightCall. "Our partnership with Coresystems aligns perfectly with our solutions, as the coupling of our AR-powered Video Assistance with Coresystems' crowdsourcing FSM platform provides enterprises and consumers with a rich service experience the moment they need it."