Aluminum Wheel and Brake Design for EVs
S. Himmelstein | August 11, 2017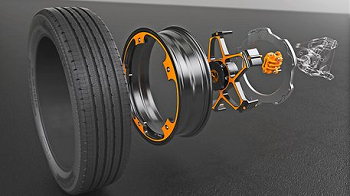 The New Wheel Concept reduces wheel and brake weight as well as service costs. (© Continental AG)Continental AG (Frankfurt/Main, Germany) appears to have reinvented the wheel, at least for electric vehicles (EVs).
In its New Wheel Concept, the wheel consists of an aluminum carrier star, which remains permanently bolted to the wheel hub, and the rim well, which is bolted to the star. The wheel brake is fastened to the wheel carrier of the axle and engages from the inside with an annular aluminum brake disk, which in turn is bolted to the carrier star. The internal brake permits a wide brake disk friction radius, since the space available in the wheel is optimally utilized.
The use of aluminum reduces the weight of the wheel and brake, enabling lightweight construction in EVs. Other benefits include much easier wheel and brake pad changes and a corrosion-free brake disk.