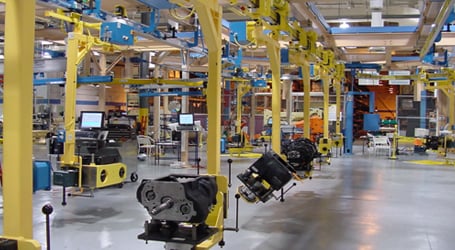 LogiTrack Automated Electrified Monorail. Source: ATS AutomationThe LogiTrackTM automated electrified monorail (AEM) from ATS Automation is a world-class conveyance system ideal for moving heavy products. LogiTrack AEM features modular components for flexible system layouts and operating modes to fit any process and can be easily expanded without a major shutdown.
The monorail system features asynchronous stop stations and can be configured for timed and group timed indexes, variable index timing and continuous moving, paced or variable speeds. The trolley carrier can vary from a simple hook to a fixture with powered lifts and grab mechanisms at speeds up to 450 ft./min. with programmable acceleration and deceleration times for smooth handling. With system uptimes exceeding 99 percent, the LogiTrack is ideal for just in time (JIT) delivery applications.
The LogiTrack monorail is practically noiseless, operating at less than 75 dba. The bearings are sealed for life and do not require relubrication. The overhead monorail facilitates easy access to equipment and keeps the floor clear for easy housekeeping.
The LogiTrack AEM is ideal for applications such as:
Engine, axle and transmission assembly and fender and bumper assembly
Sidewall panel delivery for semi-trailer assembly
Platen system for 3,500-lb rack transport
Pick-up truck cab and box delivery system
Underbody panel transport through weld line