Surface Sourced from Springtail Skin Repels Liquids
S. Himmelstein | July 31, 2017
The development of liquid-repellent surfaces is essential for waterproofing, biofouling reduction and other industrial applications. Perfluorinated coatings are often used to produce such omniphobic surfaces, but these materials degrade under harsh physicochemical environments, increasing costs and environmental impacts and limiting their use.
Researchers from King Abdullah University of Science and Technology (Saudi Arabia) sought to render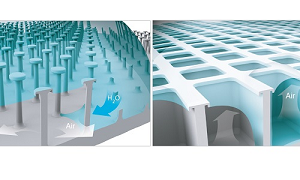 Wetting surfaces with micropillars (left) lose their omniphobicity when damaged, while microtextures with doubly reentrant cavities (right) exhibit omniphobicity despite localized damage. (© 2017 American Chemical Society. Created by Ivan Gromicho © 2017 KAUST)conventional materials, such as plastics, omniphobic by micro/nanotexturing rather than via chemical treatment. Tests were conducted with microtextures characterized by doubly reentrant pillars, which U.S. researchers previously demonstrated to be highly omniphobic in air. Results showed that this desired property was lost in the presence of localized physical defects or damage or upon immersion in wetting liquids.
A doubly reentrant cavity microtexture was then developed to prevent any loss of omniphobicity in the presence of defects or upon immersion. The design was inspired by a moist soil-dwelling insect – the springtail – which has skin surface textures that contain doubly reentrant cavities, keeping them dry. These microcavities were replicated on silica surfaces by the use of photolithography and dry-etching tools.
In the re-engineered design, microcavities trapped air and prevented penetration of liquids, even under elevated pressures. In addition, their compartmentalized nature prevented any loss of omniphobicity in the presence of localized damage or defects or upon immersion in wetting liquids.
The researchers suggest that microtextures comprising doubly reentrant cavities might enable liquid-repellent applications of conventional materials without chemical modifications.