Keeping Milk Safe
Tony Pallone | June 24, 2017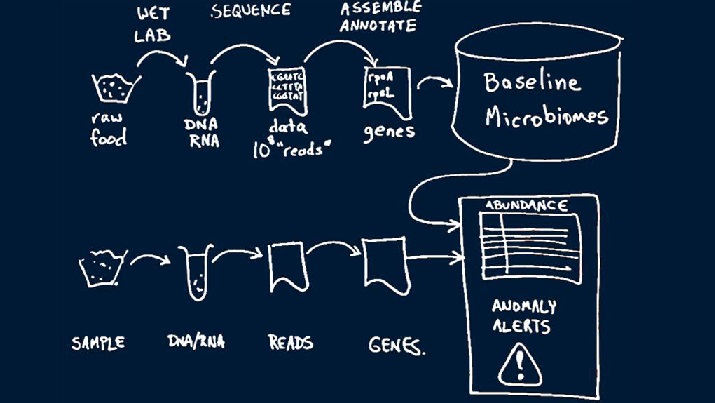 Big Data Era Metagenomics (Credit: IBM Research)Keeping milk safe is a priority for Cornell University, a leader in dairy research. The university has announced a new collaboration with IBM aimed at that very goal.
Americans consume more than 600 pounds of milk and milk-based products per person per year, according to U.S. Department of Agriculture estimates. The main ingredient used in pasteurized milk for drinking, infant formula, cheese, yogurt and other common grocery items is raw milk.
Samples of raw milk are typically tested for a few specific groups of bacteria. But the Consortium for Sequencing the Food Supply Chain, a food safety initiative that includes IBM Research, Mars Inc. and Bio-Rad Laboratories Inc., is utilizing genomics to help define what is "normal" for food ingredients on a much larger scale than has been possible in the past – enabling researchers to more easily observe when something isn't right.
With the onset of this project, Cornell has become the newest academic institution to join the consortium. Researchers will conduct studies to compare the baseline data of raw milk with known anomalies, collecting genetic data from the university's dairy processing plant and farm in Ithaca, New York. The facility represents the full dairy supply chain – from farm to processing to consumer. The studies will ultimately help to minimize the chance of food hazards reaching all the way to the end of that chain. The data gathered will also help to guard against food fraud.
"As nature's most perfect food, milk is an excellent model for studying the genetics of food," said Martin Wiedmann, a food safety professors and faculty fellow at Cornell's College of Agriculture and Life Sciences.
The work of the consortium represents the largest-ever metagenomics study to categorize and understand microorganisms and the factors that influence their activity within food matrices. By employing artificial intelligence and machine learning, it could eventually lead to new insights into how microorganisms interact within particular environments.