NASA Won't Put Astronauts on Maiden Launch of Space Launch System Rocket
Peter Brown | May 15, 2017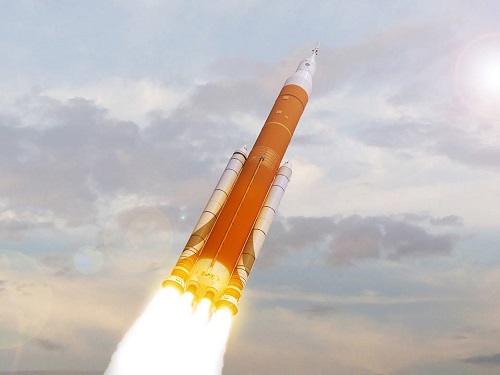 An artist's rendition of the Space Launch System (SLS) rocket after launch. Source: NASA After examining the data and weighing the risks, NASA says it will not include astronauts on the first launch of its Space Launch System (SLS) rocket and Orion spacecraft.
The agency, however, does believe the insights gained from the first flight test and the integrated systems will help future missions involving humans journeying deeper into the solar system.
NASA says that for the Exploration Mission-1 (EM-1), it could put a crew on board, but after evaluating the cost, risk and technical factors of the project, it would be difficult to bring a crew on board for mission planning. NASA says the best plan is to fly EM-1 without a crew to garner further information that will lead to humans moving sustainably beyond low Earth orbit.
EM-1 is the first of a series of exploration missions that will take humans to deep space and eventually to Mars. The SLS and Orion spacecraft are designed to be a flight test of the entire system, in order to better understand NASA's capabilities and limitations in regard to sending a crew safely into deep space.
"We're considering additional ground testing of the heat shield prior to EM-1 as well as the possibility of advancing the ascent abort test for the Orion launch abort system based on findings from the study," says William Gerstenmaier, associate administrator for NASA's Human Exploration and Operations Mission Directorate. "Conducting these tests in advance of EM-1 would provide additional data that will advance our systems knowledge faster and possibly improve the robustness of the overall plan for sending humans into deep space."
NASA has also re-evaluated the time frame for the first launch of the EM-1 and has adjusted the target date to 2019. The decision comes after reviewing the production schedules, budgets, projected delivery of the European Service Module, first time production issues related to the core stage and the impact of the February tornado that affected the Michoud Assembly Facility in Louisiana.