China's C919 Completes Maiden Flight
David Wagman | May 08, 2017
China's homegrown passenger aircraft, the C919, completed its maiden flight on May 5 in the eastern city of Shanghai.
The successful flight is seen as a crucial step in earning its manufacturer, COMAC (Commercial Aircraft Corp. of China), a position alongside Airbus and Boeing as a major player in the large passenger aircraft industry.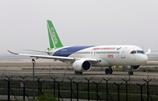 The C919 narrow body aircraftThe plane can carry up to 168 people and was conceived in 2008 to eventually compete with Airbus and Boeing in the global market for narrow-body aicraft.
The airframe was researched and developed entirely in China. At the same time major components such as the engines, avionics, and control systems were sourced from joint ventures and partners across Europe and the United States.
CFM International, a joint venture between General Electric's aerospace unit and a unit of French firm Safran supplied the engines. Honeywell International Inc., United Technologies Corp. unit Goodrich, Rockwell Collins Inc., and a unit of Parker-Hannifin Corp. also supplied parts.
The C919 is planned to mainly be used in China's domestic market. A total of 570 orders from 23 companies reportedly have been placed for the aircraft, most of them by domestic Chinese customers.