The SR2000 tidal turbine developed and manufactured by Scottish engineering company Scotrenewables Tidal Power Limited completed grid-connected commissioning works prior to Christmas 2016. The system has been re-connected to its subsea cable in a low-cost, one-hour connection operation and has reached full-rated power at the European Marine Energy Centre, Orkney.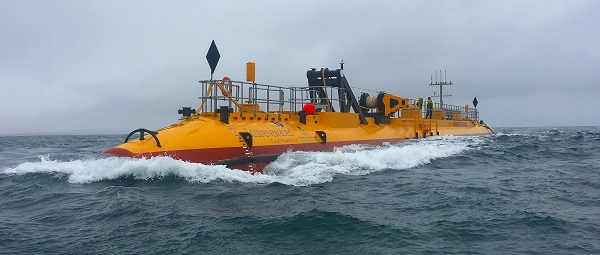 The world's largest tidal turbine was launched from the Harland & Wolff shipyard, Belfast, in May 2016 before being towed to Orkney for North Sea testing. (Source: Scotrenewables)
The 500 ton floating tidal turbine has started generation and power export to the local Orkney grid. A phased testing program led to the attainment of full 2 megawatt-rated export capacity on April 12, 2017. Retractable rotors allow the turbine to be easily towed to and from a site with small, locally available vessels, which translates into low installation and maintenance costs.
Scotrenewables is focused on building generation up on the SR2000 over the immediate future and demonstrating its power performance in parallel with its unique low operational costs.
This deployment is already feeding into design optimisations being made under the company's commercialisation project, FloTEC, which will see an even lower cost SR2000 model rolled out as a commercial offering in 2018.