COMPOZITE: A Portable Composite Davit Crane
Andrew Sleasman | April 06, 2017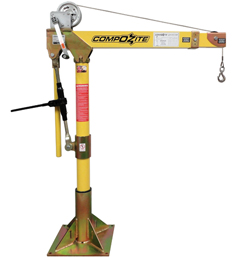 OZ Lifting Products introduces the COMPOZITE davit crane, a lightweight and easily portable davit crane made of composite materials. This synergistic blend of strong lightweight composite materials and durable steel components is available now. This crane features a 1200 lb. lifting capacity and a multi-position boom that gives a reach of 66" and a height lift up to 82".
Fiber reinforced composite materials like zinc chromate plating and stainless steel pins make this crane suitable for some of toughest humid environments in the industry. The crane offers a modular mounting base system with pedestal base, socket base or wall mount base options. The modular base system and light weigh design allows one crane to service multiple areas.
The new COMPOZITE davit crane is truly portable. Being 40% lighter than comparable steel cranes and having the ability to be disassembled and assembled in seconds gives this crane the versatility to be easily transported from site to site.
OZ Lifting continues to stay at the top of the industry in quality and reliability and offers innovative lifting products. The COMPOZITE davit crane is designed by OZ and manufactured in the U.S. OZ is proud to bring them to their customers as made in the USA.