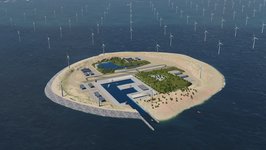 The island would be a hub for distributing power generated at sea. Source: TenneT TSO B.VA European consortium is launching a trilateral agreement to develop a North Sea Wind Power Hub. The project envisions construction of one or more islands, so-called Power Link Islands with interconnections to surrounding countries, in the middle of the North Sea (Dogger Bank):
Three transmission system operators are the major participants: TenneT TSO B.V. (Netherlands), Energinet.dk (Denmark), and TenneT TSO GmbH (Germany).
Wind farms are to be connected to the Power Link Islands, which will facilitate wind energy distribution and transmission over direct current lines to the North Sea countries of the Netherlands, Denmark, Germany, Great Britain, Norway, and Belgium. Transmission cables will simultaneously function as interconnectors between national energy markets (see video).
Without the hub, the costs of developing wind farms far out to sea would be significantly higher than the cost of wind farms much closer to shore.