The microHammer Project: Banging on Brain Cells
Engineering360 News Desk | March 02, 2017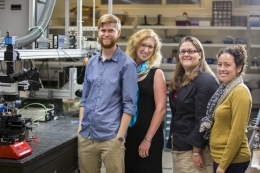 The microHammer team, from l to r: Graduate student researcher Luke Patterson and principal investigators Kimberly Turner, Megan Valentine and Adele Doyle
Researchers from University of California (Santa Barbara) and industrial partner Owl Biomedical are investigating, the impact of mechanical forces on brain cells.
With funding from the National Science Foundation, the multidisciplinary team will integrate mechanical engineering, biophysics, neuroscience and bioengineering to acquire fundamental knowledge about the brain's response to various types of mechanical force. The project is part of the federal Brain Research through Advancing Innovative Neurotechnologies (BRAIN) Initiative.
To study brain impacts at the nanoscale, researchers built the world's tiniest hammer -- the μHammer, or microHammer. The cellular-scale tool is capable of applying a variety of mechanical forces to neural progenitor cells. Eventually it will be used to apply forces to neurons and neural tissue (see video).
The machine is modeled after cell-sorting technology developed by Owl Biomedical, used typically for medical diagnostics and immunotherapies. The μHammer flows individual cells through and subjects each of them to one of a variety of physical forces.
The types and magnitudes of forces the device can apply are now being measured and recorded in anticipation of the first set of neuron-smashing experiments.
The knowledge gained by these experiments could pave the way toward a better understanding of neural conditions such as Alzheimer's disease as well as traumatic brain injury,