Deaths and injuries due to faulty vehicle airbag inflators made by Japan's Takata Corp. have led to one of the largest vehicle recalls in U.S. history, and the problem affects vehicles worldwide. Officials say the defective airbags have been responsible for at least 11 deaths and more than 180 injuries in the U.S. alone through late 2016.
The recall continues to expand. More than a dozen automakers announced new recalls in January 2017. The recall at present affects about 20 automakers and involves airbags that for the most part were installed in vehicles from model years 2002 through 2015.
Takata in 2016 said it had sold about 288 million airbag inflators to automakers worldwide since 2001. It said its cost to correct the problem could approach $24 billion if it had to execute a total global recall.
The U.S. National Highway Traffic Safety Administration (NHTSA) in December 2016 said it expects the inflator recall, which began in 2004 but did not ramp up until 2014, could by 2020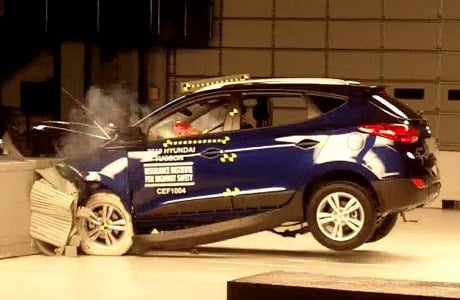 The recall could affect 42 million vehicles in the U.S. and at least 64 million airbags. That's because the defect can be found in both driver- and passenger-side airbags. Some reports have said those numbers could eventually be much higher.
An airbag works via a chemical reaction involving heat, moisture, and timing. A vehicle sensor detects a crash, and a chemical reaction is triggered by the ignition of a propellant inside the airbag inflator, which is a metal cartridge. The chemicals expand quickly and create an explosive gas, which inflates the airbag. Vents in the inflator and bag just as quickly disperse the gas, preventing the cartridge and other materials from being blown apart. This all happens in about 100 milliseconds – less time than the blink of an eye.
But some Takata-produced inflators have malfunctioned, ending in tragedy. The NHTSA has said the problem is caused by inflators that use ammonium nitrate-based propellant without a chemical drying agent. As the propellant degrades over time, the rate of propellant consumption – and its generation of explosive gas inside the cartridge – increases significantly as compared to propellants with little or no degradation.
Elevated gas generation exceeds the capability of the inflator to vent the gases when the airbag inflates during a crash. The result is pressure (or explosive force) that exceeds the mechanical strength of the inflator. This causes the housing to rupture and allows metal shards from the inflator housing to be sprayed into the vehicle's passenger compartment, resulting in injury or death.
The NHTSA said that the propellant degradation is exacerbated by moisture, high temperatures and vehicle age, which is why many of the incidents have occurred in older-model vehicles operated in hot, humid climates. The NHTSA's findings were in line with Takata's own determinations; the company said its tests found a defect in the airbag inflators – specifically non-desiccated ammonium nitrate inflators – "due to propellant degradation occurring after prolonged exposure to high absolute humidity, high temperatures and high temperature cycling."
Early airbag inflation systems used sodium azide with potassium nitrate in order to produce nitrogen gas, and hot blasts of nitrogen gas inflated the airbag. But sodium azide is highly toxic, so that combination was dropped in the 1990s. That ushered in the use of propellants such as less expensive (and less toxic) ammonium nitrate.
Complex Solution
Fixing the problem is complex. Because the recall affects multiple vehicle manufacturers worldwide, acquiring replacement parts has been a challenge for global parts suppliers. In the U.S., the NHTSA called on vehicle manufacturers to issue recall notices even though replacement airbag inflators with a different propellant such as guanidinium nitrate (also known as guanidine nitrate) may not be available for months or even years. That is due to the time it takes to redesign and then manufacture new inflators that do not use ammonium nitrate.
Ammonium nitrate has been used because it is cheaper than other alternatives. It also has not been regulated as a propellant, so no pre-approval was required for its use. It's notable that today in the U.S., the sale and transfer of ammonium nitrate - long used as fertilizer by farmers – is regulated by the Department of Homeland Security "to prevent the misappropriation or use of ammonium nitrate in an act of terrorism."
U.S. auto companies have noted that airbag inflators are engineered to be unique to each vehicle model and model year, due to differences in vehicle design. That's a lengthy process for both design and revalidation.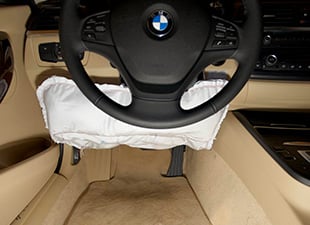 Knee airbag installed in a BMW. Credit: IIHS.And again, due to the scope of the recall, a scarcity of global production capacity exists among inflator suppliers, delaying the availability of replacement parts worldwide. Even so, a number of suppliers – including companies such as Key Safety Systems, Autoliv, TRW and Daicel - have ramped up production over the past few years.
Supply Chain
Takata and vehicle manufacturers have been vocal in pointing out the problem is with the airbag inflator, and not the actual airbag. They also point out that the supplier for an airbag and the airbag inflator may be different, and that in some vehicles the supplier for the driver's side airbag may not be the same as the supplier for the passenger side airbag.
This has led to more questions from vehicle owners about the recall; some have been confused about why they have received a second recall notice after already having their vehicle serviced. In some cases, automakers have made an interim repair, then issued a second notice when a permanent repair became available.
New Types of Airbags
Along with developing airbag inflators that use a different propellant, engineers are looking at new types of airbags in an effort to decrease the numbers of injuries and deaths as a result of vehicle crashes. Many new vehicles now contain not only frontal airbags but also side-torso airbags, side-curtain airbags, and rear-seat airbags.
Other designs include knee airbags, which can reduce leg injuries as limbs make contact with the dashboard. Ford Motor Co. introduced a passenger knee airbag on its Mustang model beginning in 2015. It consists of an inflatable, molded plastic bladder (rather than traditional fabric), placed between the inner and outer glovebox door panels.
In a crash, an inflator fills the bladder, extending the glovebox outer door panel toward the passenger's legs. After it's deployed, the outer door provides cushioning for the legs. Ford says this design is 65% lighter than previous knee airbag systems and also provides more passenger legroom.
Front-center airbags have been in use for several years. General Motors says the system is designed to provide protection to drivers in crashes affecting the passenger side of the vehicle, when there is no one in the passenger seat. It acts as an energy-absorbing cushion between driver and passenger in both driver- and passenger-side crashes. (Watch a video.)
The Insurance Institute for Highway Safety (IIHS) said that side airbags that protect the head and torso, although not federally mandated, are now standard equipment on more than 9 out of 10 vehicles produced by U.S. automakers.
Side airbags are considered part of an ejection-mitigation provision adopted by the NHTSA in 2011 designed to eliminate the ejection of passengers through side windows, usually in rollover crashes. U.S. automakers must be 100% in compliance with that rule by September 2017, or as they produce vehicles for the 2018 model year.