Solid-state Relay That's Based on CMOS Isolation Technology
Dan Heilman | September 22, 2016
Austin, Texas-based Silicon Labs recently introduced a CMOS-based isolated field effect transistor (FET) driver family that it says lets developers choose application-specific, high-volume FETs to replace outmoded electromechanical relays (EMRs) and optocoupler-based solid-state relays (SSRs).
The line of isolated FET drivers, dubbed Si875x, are among the industry's first to be designed to transfer power across an integrated CMOS isolation barrier. Silicon Labs says this eliminates the need for isolated secondary switch-side power supplies. When used with a discrete FET, the Si875x drivers can replace EMR/SSR for motor and valve controllers, HVAC relays, battery monitoring, AC mains line and communications switches, HEV/EV automotive charging systems, and other industrial and automotive applications.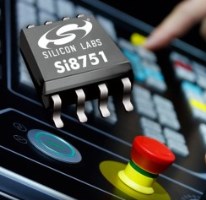 The Si875x drivers are designed to transfer power across an integrated CMOS isolation barrier. Image source: Silicon LabsIn the past, developers have used EMRs and optocoupler-based SSRs in switching applications, but both technologies have shown limitations. EMRs, for instance, can be costly, slow, bulky, and noisy. That has driven adoption of SSRs, but Silicon Labs says that even optocoupler-based SSRs have shorter lifetimes due to LED aging, reduced performance and stability at higher temperatures, and reduced noise immunity. They also use a limited choice of integrated FETs.
Silicon Labs says its CMOS-based Si875x isolated FET drivers can reduce system cost and power and enhances performance for applications served by SSRs or EMRs. Because the drivers do not use LEDs or optical components, they can potentially offer improved stability over time and temperature. The devices also feature completely silent switching, making them a potential replacement for EMRs limited by electrical switching noise and wear-out issues, as well as mass production challenges.
The Si875x devices drive FET gates with 10.3 volts, using a 1 mA input with 1.1-millisecond turn-on time. A power optimization option delivers maximum turn-on current, and also lowers it by up to 90 percent for static holding current once the optional external cap is discharged. Flexible 2.25 V to 5.5 V input side voltages support connection to low-power controllers. Another optional feature is Miller clamp capability to prevent unintended turn-on of the external FET.
The Si875x devices can operate over full industrial and automotive temperature ranges (up to +125oC), and are designed to meet stringent UL, CSA, VDE and CQC standards. Inputs provide digital CMOS pin control (Si8751 devices) or diode emulation (Si8752 devices), and outputs support AC and DC load configurations.