Technology Displays Traffic Light Change Clock
John Simpson | August 23, 2016
Audi of America is installing vehicle-to-infrastructure (v2i) technology that it says will inform drivers of how long they will have to wait until a traffic light changes from red to green.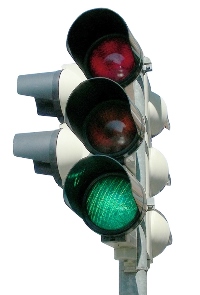 Drivers are informed as to how many seconds remain until a traffic signal changes to green. Image credit: Pixabay.
The v2i integration, developed by Traffic Technology Services (TTS), will be launched as part of Audi's Connect Prime services later in 2016. Audi is installing the technology on all 2017 Audi Q7, A4 and A4 all-road models built after June 1, 2016.
Traffic lights in municipalities with populations of over 50,000 are often controlled by a central system owned or operated by a city, county or a state department of transportation. If the traffic signal communicates via a private fiber or wireless network to a central location, TTS' Personal Signal Assistant software can connect to the signal.
When an equipped Audi enters a monitored traffic zone, the software requests and receives real-time light-phase information. The link between vehicle and infrastructure is routed via the on-board LTE data connection and TTS servers.
While the vehicle is waiting at a connected traffic light, the driver information system in the instrument cluster, as well as the head-up display (if equipped), indicates the time remaining until the signal changes to green, in the form of a countdown clock.
"This feature represents Audi's first step in vehicle-to-infrastructure integration," says Pom Malhotra, general manager of connected vehicles. Audi says this technology could be integrated into vehicle navigation, start/stop functionality and possibly be used to improve traffic flow in municipalities.