ORNL Team Bonds CFC and Aluminum with Lasers
Riia O'Donnell | May 25, 2016
Researchers at the U.S. Energy Department's Oak Ridge National Lab have found a way to bond carbon fiber composites and aluminum together for use in lightweight automotive parts and other applications.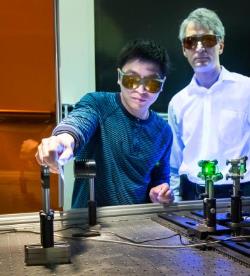 Jian Chen (left) and Adrian Sabau (right) use a laser to prep carbon fiber composite and aluminum for bonding. Credit: Oak Ridge National LaboratoryThe technique uses a laser to prepare the surfaces of both materials for a bond that the researchers say is less expensive and that may yield stronger joints in the process.
Traditional methods to join CFCs and aluminum have required the need to abrade the surface of each material: of the aluminum to rid the surface of oils, and of the composite to remove any mold release material. The contaminants may have a negative effect on adhesion so they must be removed.
The laser method not only removes the contaminants, but for the CFC layer, penetrates the top resin layer. Doing so leaves individual carbon fibers exposed to directly bond to the adhesive. This increases the surface area for even more robust adhesion than the traditional bond, the researchers say.
Test results of the technique of single-lap shear joint uncovered increase in strength by 15%, maximum load increased by 16% and displacement at maximum load by 100%. The implications are important, particularly in energy absorption at the joints, for vehicle safety, as the use of CFC as a lightweight, high-strength material could reduce overall vehicle weight by up to 750 pounds. Additionally, the technique could be used in automated processing of multi-material carbon fiber-aluminum joints.