Team develops recycled glass-derived building cladding
Marie Donlon | March 09, 2023
Engineers from Australia's Royal Melbourne Institute of Technology (RMIT University) have developed new fire-safe building claddings — the components attached to a building's primary structure that keep it standing — using recycled glass.
Diverting glass from landfills thereby creating a promising circular-economy solution, the RMIT University team worked alongside the materials technology company Livefield to manufacture the composite cladding, which is reportedly structurally robust, inexpensive to manufacture and fire-resistant.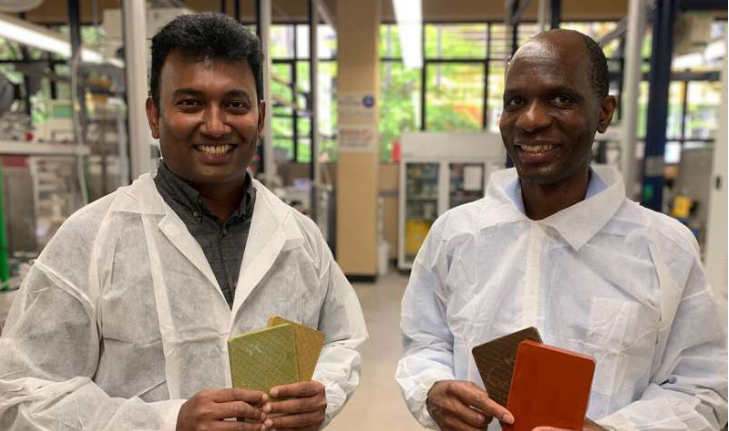 Associate RMIT professors with cladding samples made with recycled glass and other materials. Source: RMIT University
According to its developers, the non-combustible claddings are composed of 83% recycled glass combined with plastic binders and fire-retardant additives — overcoming what the researchers suggest is the brittle and vulnerable-to-fracture nature of exclusively glass claddings.
Following a series of tests, the RMIT University engineers report that the glass-derived claddings are fire-safe, inexpensive and water-resistant, while also meeting compliance requirements of claddings for non-combustibility as set by Standards Australia — Australia's governing standards organization.
Currently, panels of the composite glass cladding are installed throughout the RMIT campus.
The glass-derived cladding is detailed in the article, "Fire compliance of construction materials for building claddings: A critical review," which appears in the journal Construction and Building Materials.