Video: Cutting carbon capture and conversion costs
S. Himmelstein | January 26, 2023
The cost of carbon capture for conversion to industrially valuable products fall to about $40/ton of carbon dioxide (CO2) at a 90% to 97% capture rate with technology developed by researchers from U.S. Pacific Northwest National Laboratory, Fluor Corporation and Washington State University. The use of water-lean solvents for C capture is estimated to be 12% to 23% less expensive than conventional aqueous amine technology.
The selected solvent — N-(2-EthoxyEthyl)-3-MorpholinoPropan-1-Amine) — strips out CO2 from power plant flue gas and converts the gas into methanol. The water-lean solvent contains less than 5% water, reducing the energy required to release the captured CO2 by boiling. This results in a more efficient, less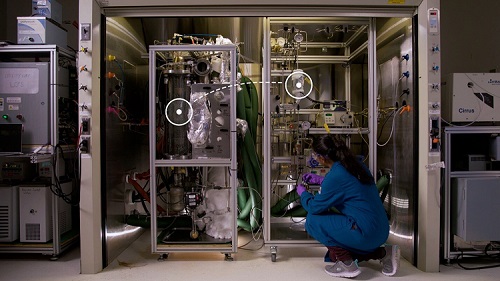 On the left of this walk-in fume hood, "smoke" moves through a cylindrical container where it makes contact with a carbon-capturing solvent. That solvent chemically binds to carbon dioxide and, on the right, is converted to methanol. Source: Eric Francavilla/U.S. Pacific Northwest National Laboratory energy intensive process, as documented in the Journal of Cleaner Production. The scheme also deploys platinum catalysts on reducible metal oxides to suppress undesirable nitrogen-methylation of the capture solvent.
As described the journal Advanced Energy Materials, the new system is designed to fit into coal-, gas- or biomass-fired power plants, as well as cement kilns and steel plants.
This is the first known demonstration of integrated low-temperature thermocatalytic capture and conversion of CO2 to methanol in an economically viable capture solvent. In addition to curbing emissions, the technology could also foster development of other carbon capture technology and establish a market for CO2-containing materials.