New technique for printing circuits on curved surfaces
Marie Donlon | December 10, 2022
A new technique for printing flexible circuits onto curved and corrugated surfaces has been developed by a team of researchers from North Carolina State University.
Current methods for printing circuits typically requires inks featuring polymer binding agents that often impair the conductivity of the circuits. Similarly, these methods only work on flat surfaces. However, the new technique doesn't require binding agents and can print on curvilinear surfaces.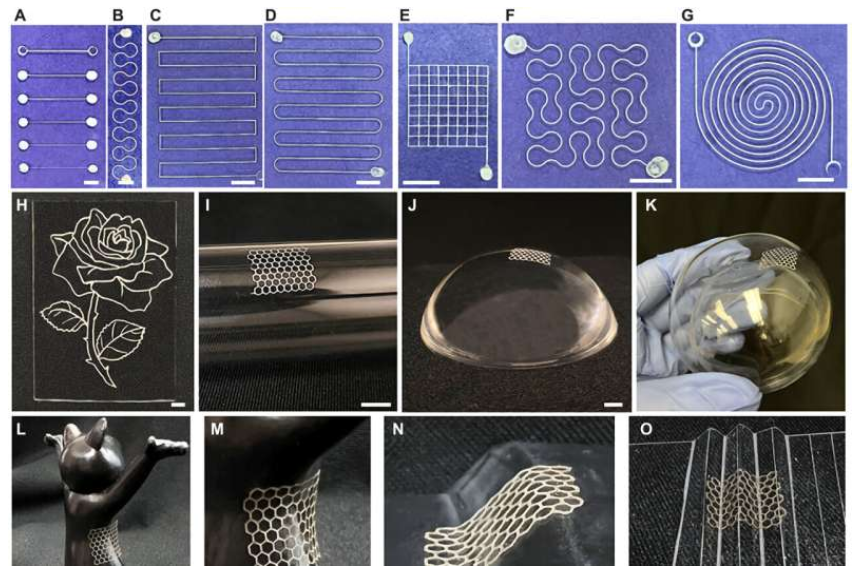 Representative printed patterns. (A) Straight lines with different linewidths, (B) horseshoe pattern, (C) serpentine curve with right angle corners, (D) serpentine curve with round corners, (E) square grid structure, (F) Peano curve, (G) spiral structure, (H) rose pattern on PDMS, (I) grid structure on a glass tube, (J) hexagon grid structure on a PDMS hemisphere, and (K) hexagon grid structure across the bottom and the side of a glass teacup. (L) Printed hexagon grid structures on a saddle-shaped surface. (M) The magnified image of the printed pattern in (L). Printed hexagon grid structures on a (N) sloped surface and (O) corrugated surface. (A to G) On glass substrate. Scale bars, 5 mm (A to O). Optical images of (P and Q) curves, (R) corner, (S) crossing area in a grid structure, and (T) spiral structure. Top and bottom show low- and high-magnification images, respectively. Source: Science Advances (2022). DOI: 10.1126/sciadv.add6996
To accomplish this, the North Carolina State University team first created a template for the application, incorporating a particular pattern of microscale grooves. The researchers then used the template to replicate that pattern in a thin elastic polymer film, which was then attached to a relevant flat or curved substrate. At this stage, researchers fill the tiny grooves in the polymer with a liquid solution featuring silver nanowires.
Left to dry at room temperature, the solution eventually leaves silver nanowires behind in a soft material in the shape and circuit pattern desired.
So far, the researchers have used this technique to create three proof-of-concept prototypes: smart contact lenses with built-in circuits for measuring fluid pressure in the eye; a transparent electrode with circuits printed in a grid pattern for solar cells and touch panels; and a latex glove with circuits printed on it that function as pressure sensors.
The new technique is detailed in the article, Curvilinear soft electronics by micromolding of metal nanowires in capillaries, which appears in the journal Science Advances.