Video: New life for old e-chains with expanded recycling program
S. Himmelstein | December 01, 2022
The Chainge recycling initiative launched by Igus in 2019 has proven so successful that the company is now expanding the project. A new online platform now supports the recycling of e-chains as well as other technical plastic waste. Interested customers can also purchase processed material, including ground material, to contribute to the expanding circular materials economy.
End-of-service life energy chain cable carriers, or e-chains, are typically incinerated, exacerbating air pollutant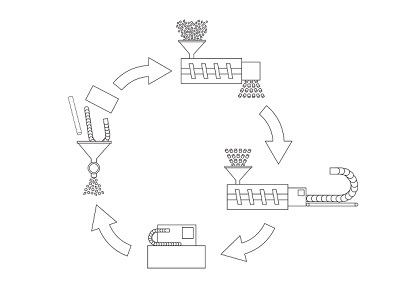 Source: Igus emissions by the destruction of valuable resources. To counter this trend, the Chainge recycling program was launched to enable the granulation and reuse of worn-out e-chains, regardless of their manufacturer. Over 60 tons of high-performance plastics have been collected and recycled since the program was initiated, prompting Igus to expand its acceptance of e-chains, bar stock and gears.
Program participants can submit a recycling request and manage credits for purchasing new Igus products. As part of the Chainge expansion, Igus will include additional locations in the program and further broaden its recycling network beyond its Cologne, Germany, headquarters.
The platform will also sell regranulate, which until now has only been used in in-house injection molding.