At bauma 2022: Hydrogen engine generator with integrated F1-derived flywheel
S. Himmelstein | October 25, 2022
Visitors to bauma 2022, scheduled for October 24 through October 30 in Munich, Germany, will have an opportunity to examine a hydrogen engine generator with an integrated flywheel system presented by PUNCH Group and Tecnogen.
The system combines a hydrogen engine from PUNCH Hydrocells with a flywheel power system developed by PUNCH Flybrid into a generator set engineered in collaboration with Tecnogen.
The PUNCH hydrogen engine achieves a maximum power of 250 kW at 3,000 rpm in marine, mobile off-highway and on-highway applications. A specific power of 38 kW/liter has been achieved with port fuel injection combined with an innovative PUNCH combustion system for high efficiency.
In the generator application, the system achieves a 100 kW prime rated power (PRP) at 1500 rpm and 110 kW PRP at 1800 rpm. The hydrogen engine is controlled by a proprietary PUNCH control unit.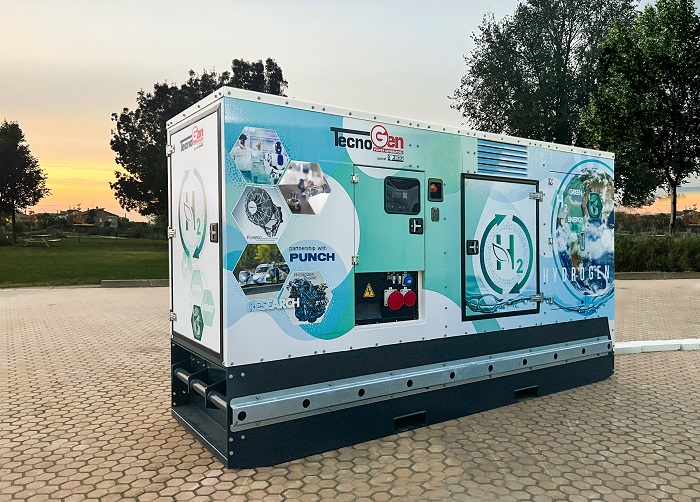 Source: PUNCH Group
Originally developed for Formula One Racing, PUNCH Flybrid products now enable generator set downsizing for dynamic applications such as tower cranes, chillers, rock sizers, hoists, mast climbers and pumps. The flywheel system boosts peak performance and significantly improves the load response of the generator. As a result, fuel and emission savings can exceed 50% in dynamic applications. If combined with hydrogen technology, emission levels approach zero, supporting the efforts of the construction industry to reach Net Zero.
The Tecnogen generator incorporates the use of variable speed inverter technology, which also contributes to fuel consumption and noise level reductions. The generator can be synchronized with up to 32 other units and delivers a power of 105 kVA PRP at 50 Hz and 120 kVA at 60 Hz.
Attendees at bauma can visit PUNCH Group at Booth A3.512E and Tecnogen at Booth A6.102.