Infographic: All about US home heating systems
S. Himmelstein | September 23, 2022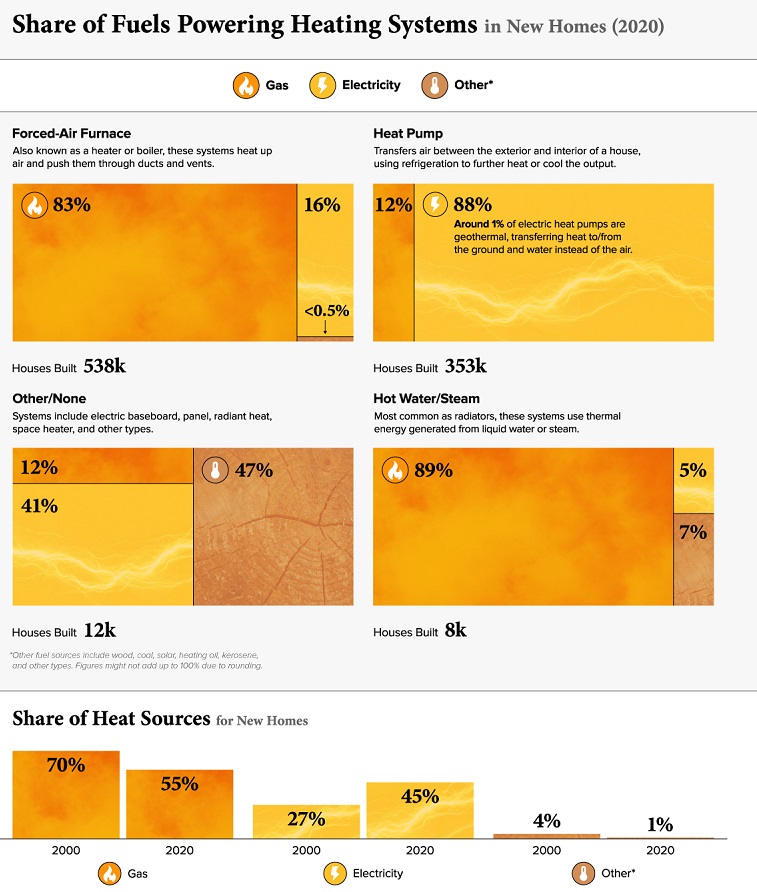 Source: U.S. Census Bureau
Home heating in the U.S. has been going through a transition over the last two decades. Electricity has steadily been replacing gas and biofuel/wood-powered home heating systems for new homes, and powers almost half of the heating systems in single-family homes built in 2020.
This infographic uses data from the U.S. Census Bureau to break down the different heating systems and fuels that are warming the 911,000 single-family homes built in the U.S. in 2020.
While electricity's share has grown since 2000, most American homes are still heated with gas largely because of the fossil fuel's affordability. According to the U.S. Energy Information Administration (EIA), households relying on gas for space heating are expected to spend an average of $746 over the winter months, compared to $1,268 for electricity, and $1,734 for heating oil.
Of the 911,000 new single-family homes, 538,000 houses installed forced-air furnaces. Of these, 83% or nearly 450,000 homes used gas as the primary heating source, with 16% opting for electrified furnaces. By contrast, 88% of the 353,000 homes that installed heat pumps relied on electricity.
Fewer than 1% of new single-family homes use hot water or steam systems, and the majority of those that did rely on gas as the primary fuel. Around 1.3% of new homes use other systems like electric baseboard heaters, smaller space heaters, panel heaters or radiators.
Gas remains the dominant heating source today but efforts to decarbonize the U.S. economy could further prompt a shift toward electricity-based heating systems, with electric heat pumps likely garnering a larger share of the home heating market.