Coating developed for thermal intelligence, counter-surveillance
Marie Donlon | September 13, 2022
A team of researchers from the University of Illinois Urbana-Champaign has recently developed a visibly transparent infrared reflective coating for controlling thermal radiation.
As earlier studies have demonstrated, materials worn to reflect radiation away from the body are likely to subsequently increase the wearer's body temperature. Yet, the composition of most of these materials feature metal of a distinctive color, thereby making it difficult to employ textiles in other colors. Likewise, these materials reflect most solar light, thereby making the absorption of sunlight for outside warming also difficult.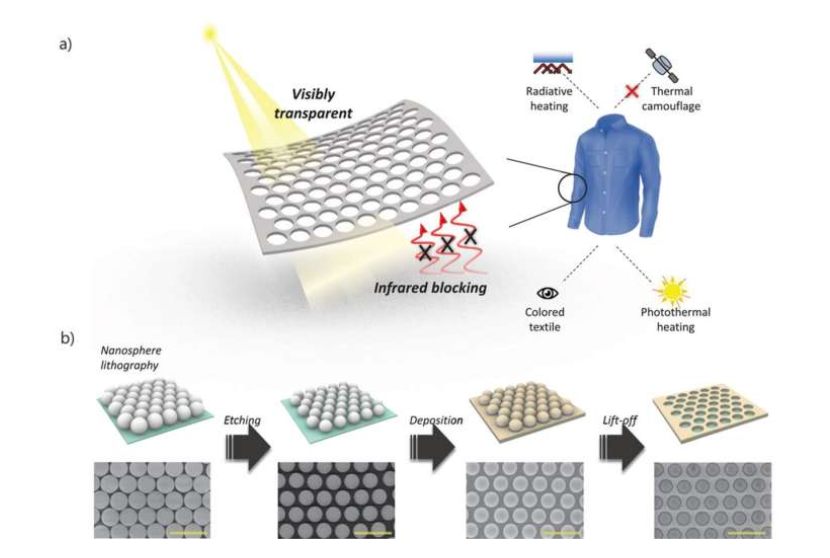 a) Schematic of the VTIR to block the emission of thermal radiation for radiative heating and thermal camouflage. b) Schematic of the fabrication process and SEM images for VTIR coatings. Scale bar, 2 µm. Source: The Grainger College of Engineering, University of Illinois Urbana-Champaign
As such, the team developed the transparent infrared reflective coating with a nano-mesh structure, enabling the material to transmit visible light, such as sunlight, and reflect body thermal radiation in the same fashion as commonly used metal-based textiles. The researchers also used various textiles of assorted colors to achieve warming without consuming energy.
Further, the researchers combined their nano-pore structure with a photothermal material, thereby confining sunlight and thermal energy from the body within the textile. Even under freezing temperatures, the coating reportedly achieved 59° F higher heating effect than currently available commercial clothing. According to the researchers, such an accomplishment could possibly allow for more outdoor activity during colder months and thus eliminate the need for bulky clothing.
Beyond personal heat management, the researchers are eyeing the coating and its reflective properties for use in counter-surveillance military applications — for instance, to camouflage soldiers against thermal imaging cameras. The researchers suggest that the coating could be used for either daytime or nighttime cloaking.
The article detailing the coating, Transparent and Infrared Reflective Coatings for Personal Thermal Management and Thermal Camouflage, appears in the journal Advanced Functional Materials.