Keeping cool sustainably with propane as refrigerant
S. Himmelstein | September 21, 2022
The increasing incidence and severity of heat waves are driving greater use of air conditioning systems, which in turn impacts the environment via rising consumption of energy and halogenated refrigerants with high global warming potential. To cope with these evolving climatic conditions and comfort requirements, researchers suggest that switching to propane as a refrigerant to lessen the global temperature increase from space cooling.
A study conducted by scientists from the International Institute for Applied Systems Analysis (Austria) and the UN Environment Program (France) indicates that switching to propane, an alternative low global warming potential refrigerant for space cooling, can help avert a 0.09° C increase in global temperature by the end of the century. Such refrigerant replacement could make a marked contribution toward keeping the global temperature rise below 1.5° C.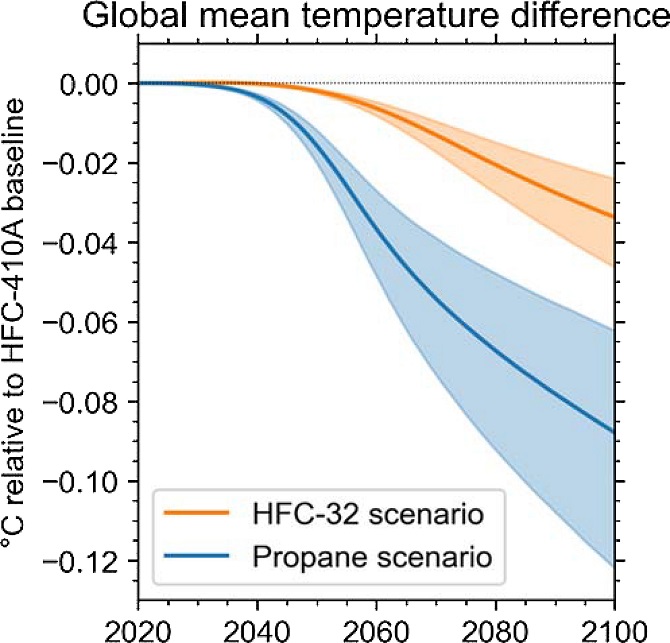 Model-simulated temperature differences relative to the HFC-410A baseline for scenarios that transition toward HFC-32 (orange) and propane (blue) in the split-air conditioning sector. Source: Pallav Purohit et al.
A modeling study published in Proceedings of the National Academy of Sciences compared baseline halogenated refrigerant emission scenarios with those involving a switch to HFC-32 or propane. While a transition to HFC-32 also reduced the global temperature increase (0.03° C by the end of the century), propane proved to be the superior solution in terms of sustainability.
Accelerated adoption of energy-efficient split-air conditioning systems using propane is advocated. These units perform similarly to split systems using HFC-32 and even better than currently available appliances using HFC-410A and HCFC-22.