Video: Surveying water resources from space
S. Himmelstein | September 05, 2022
A collaboration between NASA and the French space agency Centre National d'Études Spatial is expected to improve water resources management through a better understanding of Earth's water cycle. Planned for launch from Vandenberg Space Force Base in California, the Surface Water and Ocean Topography (SWOT) satellite mission will also expand knowledge of how climate change affects lakes, rivers and reservoirs.
The satellite will measure the height of water bodies on Earth's surface and will document features such as eddies less than 60 miles across, smaller than those observable by previous sea level satellites. SWOT will also measure more than 95% of Earth's lakes larger than 15 acres and rivers wider than 330 ft across.
"Current databases maybe have information on a couple thousand lakes around the world," said Tamlin Pavelsky, the NASA freshwater science lead for SWOT. "SWOT will push that number to between 2 million and 6 million."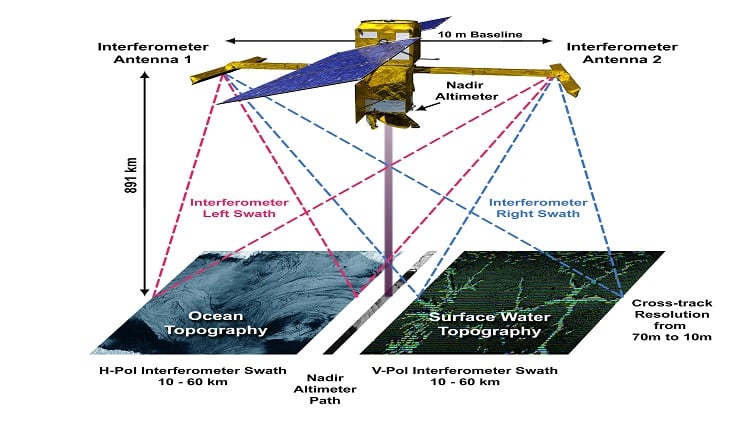 A diagram illustrating the swaths of data that SWOT will collect. Source: Yeosang Yoon/NASA
Data reflecting water height and surface area will be generated by a Ka-band Radar Interferometer (KaRIn), which bounces radar pulses off the water's surface and receives the return signal with two antennas at the same time. The antennas are spaced 33 ft apart on a boom, enabling researchers to gather information along a roughly 75 mile wide swath of Earth's surface.