Video: Cleaning the seafloor with robots
S. Himmelstein | January 01, 2022
Millions of tons of waste currently impact the world's oceans, posing time- and energy-intensive cleanup operations. While most remedial activities focus on the collection of waste from surface waters, the greatest proportion of marine litter pollutes the seabed. An autonomous system is being advanced by researchers from the Technical University of Munich to address this submerged environmental problem.
In a collaboration with other European institutions as part of the SeaClear Project, the researchers engineered a marine cleanup system that includes an autonomous surface vehicle that conducts an initial scan of the sea bottom to localize large litter accumulations. An observation robot lowered into the water confirms the presence of undersea litter and transmits additional data and images to the operators; an aerial drone is also deployed in areas with good visibility to amass additional data.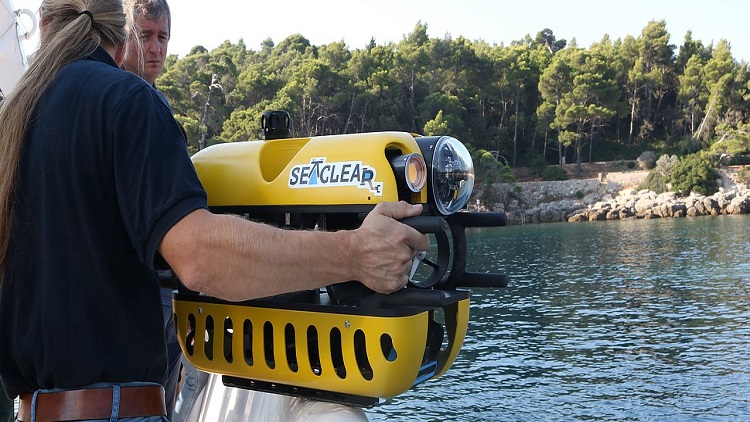 The robot detects and collects underwater litter. Source: SeaClear Project
A virtual map prepared on the basis of this information is used to guide a collection robot to specific target areas where waste is retrieved with a gripper and placed in a basket to be towed to shore by the autonomous boat.
The video documents initial field trials conducted in October 2021 in Dubrovnik, Croatia. When fully operational, the SeaClear system is expected to achieve 80% accuracy in classifying underwater litter and to successfully collect 90% of it.
Project partners include Delft University of Technology (Netherlands), Hamburg Port Authority (Germany), Technical University of Cluj-Napoca (Romania), Subsea Tech (France), Fraunhofer Center for Maritime Logistics and Services (Germany), University of Dubrovnik (Croatia) and DUNEA (Netherlands).