60 A micro-sized FlexPro servo drives from Advanced Motion Controls
Engineering360 News Desk | December 07, 2021
Seven new micro-sized FlexPro servo drives rated to output 60 A continuous have been introduced by Advanced Motion Controls. The 60 A continuous current rating is 33% higher than previous models for the same size, making these the highest power-density servo drives from the company to date. This offering includes PCB mount, machine embedded and development board form factors.
With a footprint of 38.1 mm x 25.4 mm, up to four FlexPro servo drives can fit within the area of a standard business card. The PCB mount form factor is the most compact configuration with no connectors or housing. These are intended to be soldered directly to a PCB to help achieve the highest levels of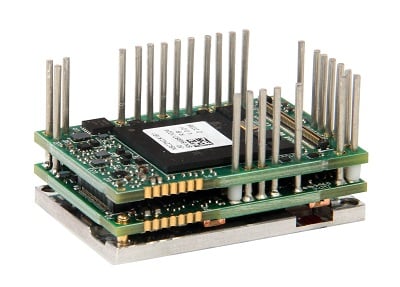 Source: Advanced Motion Controlsintegration.
Machine embedded form factor models add a compact interface card to the PCB mount versions to allow for direct connections with power and signal wires. This form factor makes it easy to install servo drives just about anywhere in a machine.
The development board form factor version is essentially the same as the other models in this product launch but mounted to a larger board populated with full-sized connectors with more spacing in between. Development boards are great for proof-of-concept designs and for setting up experiments on a bench top.
Features:
EtherCAT, CANopen, RS485/RS232 communication available
10-55 V DC input voltage
Rated for 60 A continuous current
Incremental encoder, EnDat 2.2, and BISS C-mode feedback
Torque, velocity and position operating modes
Configuration and full loop tuning
STO (Safe Torque Off)
IMPACT architecture
IMPACT (Integrated Motion Platform and Control Technology) is the architecture that makes FlexPro drives possible. The stacking of circuit boards with creative selection and placement of high-power components allows for much higher power density than previously produced servo drives. The expanded processing capabilities ensure the drive's intelligence is unmatched. This technology will be used in subsequent FlexPro drives as well as any future custom products where it is desired.
The small size of the FlexPro drives makes them perfect for cobots (collaborative robots), autonomous mobile robots, automated guided vehicles, portable devices, lab and warehouse automation, military equipment and any other integrated design.