New servo systems for motion control applications
Engineering360 News Desk | November 30, 2021
LS Electric servos systems from AutomationDirect provide extremely accurate motion control and include the most requested features — setup wizards, auto-tuning, built-in indexer and more — in an extremely cost-effective package.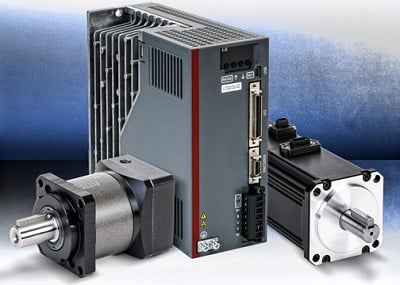 Source: AutomationDirectThe L7S family of brushless servo systems is fully digital and capable of covering a broad range of motion control applications.
There are five standard servo motors from 100 W to 1 kW that can be operated in combination with one of two standard servo drives. The L7C drives accept single-phase 200 V AC to 230 V AC and are controlled via analog speed or torque signal, high-speed pulse train, or internal indexing. Setup is easy using the built-in keypad/display or the FREE DriveCM PC-based software. These systems are fully compatible with most AutomationDirect PLCs or any other host controller.
The L7C servo system selector tool provides selection assistance for user application requirements and assures that all the required and optional accessories are included.