Greater EV range with redesigned power inverter
S. Himmelstein | May 05, 2021
While the battery is often considered the key to enhancing electric vehicle (EV) performance and range, researchers at the Fraunhofer Institute for Reliability and Microintegration, Germany, have focused on helping the power inverter keep its cool with greater efficiency.
These devices require cooling as they convert DC from the battery into the AC that drives the electric motor. EV power inverters use solid cooling elements that feature ducts resting in water, where the heat is directed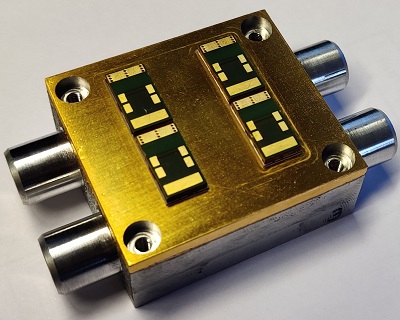 Source: Fraunhofer Institute for Reliability and Microintegrationand dissipated. Advanced transistors for inverters made of silicon carbide semiconductors have been designed, which offer a lower rate of power loss as the vehicle is operated.
The researchers 3D-printed cooling components with much thinner walls and positioned the transistors on a thin metal plate measuring just a few millimeters thick. The redesign places the transistors closer to the cooling water to boost heat removal. The cooling ducts double as structural components, supporting the metal plates, while the thin nature of the materials enables them to absorb stresses as the inverter heats and is cooled, by deforming slightly.
The redesigned power inverter, projected to contribute to a 6% EV range extension, will next be tested in a drive train engineered by Porsche to match the silicon carbide structure.