Couplings offer concentricity for precision applications
Engineering360 News Desk | April 19, 2021
Ringfeder Power Transmission recently released its GWE 5113 and 5117 series of elastomer jaw couplings, which include a compact hub design, low moment of inertia and excellent damping properties. Thanks to this combination of features, these new couplings are ideal for linear technology, robotics, conveyor systems and other precision-driven applications.
Featuring two single-slit clamping hubs made of high-strength aluminum, the 5113 model facilitates installation, while its symmetrical clamping slots and screw positions ensure an even distribution of mass.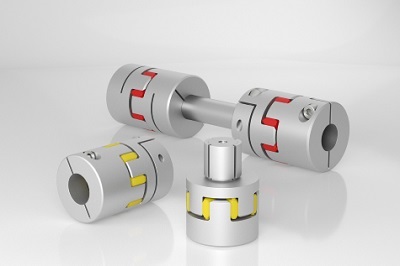 With this optimized design, the coupling offers superior concentricity and
eliminates any radial loads
that can damage the bearings of the motor shaft. This hub design is also featured in the 5117 model, which includes an expanding mandrel for friction-locked torque transmission on hollow shafts.
The compact design makes the units ideal for small or confined installation spaces. The seven available sizes with wide bore diameters from 4 mm to 56 mm provide precise, backlash-free torque transmission up to 560 Newton meters. The couplings feature adjustable misalignment capabilities, damping properties and torsional stiffness levels, thanks to bored and non-bored elastomer spiders that range in Shore hardness levels from 80 Shore A to 64 Shore D.