Video: Robots can scan and dig for cable, pipe installation
Marie Donlon | March 02, 2021
Researchers from the Universidad Carlos III de Madrid (UC3M) have developed a prototype system for drilling in urban environments.
The system, which was developed under the European BADGER research project, features a pair of robots — a surface vehicle and an underground robot — for pipe and cable installation drilling applications.
According to its developers, the surface vehicle uses a geo radar that scans the subsoil for subterranean obstacles and identifies entry and exit points for drilling to take place. Once those points are determined, the drilling robot will drill from point to point without having to first dig a trench as is necessary with current cable and pipe installation applications.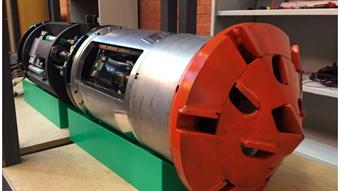 Source: UC3M
In addition to installation applications, the system is also being considered for possible search and rescue operations and mining, mapping, exploration and civil applications including water, gas and fiber optics lines.
For more information on the autonomous system, watch the accompanying video that appears courtesy of UC3M.