A new mobile dumper-conveyor for multiple tasks
Engineering360 News Desk | October 23, 2019
A new mobile drum dumper-conveyor system from Flexicon performs multiple tasks. It allows dust-free dumping of bulk solid materials from drums, as well as the ability to convey it to process equipment and storage vessels throughout a plant.

The system's Tip-Tite® drum dumper accommodates drums from 30 to 55 gallons, weighing up to 750 lb and with a height of 36 to 48 in. Mounted on a mobile frame with quick-action floor jacks, it raises the drum hydraulically to form a dust-tight seal between the rim of a drum and the underside of the discharge cone.
A separate hydraulic cylinder tips the platform-hood assembly and drum, stopping at dump angles of 45, 60 or 90° with a motion-dampening feature. The vertically oriented cone mates with a gasketed inlet port fitted to the hopper of the system's flexible screw conveyor, and to any low profile equipment throughout the plant. A pneumatically actuated slide gate valve prevents material flow until the discharge cone has been properly seated in the gasketed receiving ring.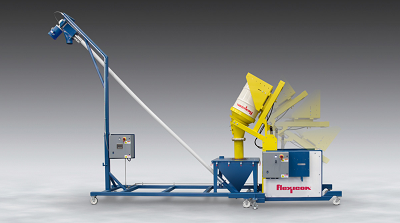 Source: Flexicon
The mobile Flexicon® conveyor, which can operate independently or mated to the drum dumper, can feed material to elevated process equipment and storage vessels. The only moving part contacting material is a rugged inner screw that can move both free- and non-free-flowing materials with no separation of blended products. The screw is driven beyond the point of discharge, preventing material contact with seals or bearings. Removal of the hopper lid allows manual dumping and feeding from upstream equipment.
Flexibility of the dumper and conveyor — to handle a diversity of materials independently or in tandem throughout the plant — enables the system to satisfy a range of current and future requirements, according to the manufacturer.
Ready to plug in and run, it is constructed of carbon steel with a durable industrial finish, and is available with stainless steel material contact surfaces or in all-stainless construction finished to food, dairy, pharmaceutical or industrial standards.