New geothermal heat pump equipped with Wi-Fi
Shawn Martin | May 02, 2019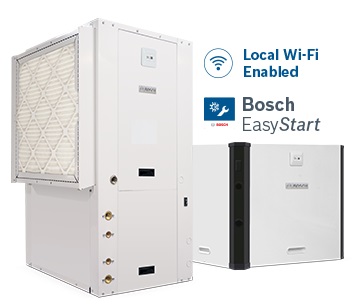 Source: Bosch Thermotechnology Corp.Bosch's new CDi series Greensource geothermal heat pumps are local Wi-Fi-enabled, which allows installation and troubleshooting operations to be facilitated through the Bosch EasyStart app. The mobile app provides contractors with an intuitive user interface from which they are able to configure and commission new units without a need to remove access panels to toggle DIP switches, cut resistors or both.
The Bosch EasyStart app also provides critical insights when troubleshooting. It displays real-time temperature readings, operating modes, component status, thermostat demand and active system timers. Technicians can also call-up fault history and display the latest 70 faults captured by the microprocessor board.
The CDi series Greensource geothermal heat pump is Energy Star certified for groundwater and ground loop applications. It provides a summer cooling mode and winter heating mode and is easily coupled to a ground loop or well system.
The unit's standard features including two-stage scroll compressor technology and variable speed electronically commutated blower fan motors, which provide higher operational efficiency while delivering constant airflow.
These new high-efficiency geothermal heat pumps from Bosch Thermotechnology claim to reduce utility bills by up to 70% while operating at sound levels as low as 52 dB. They are available in several sizes ranging from 2 to 6 tons to suit the needs of any given residential water source heat pump application.