New method sterilizes wastewater with carbon dioxide bubbles
S. Himmelstein | March 25, 2019
A new method for sterilizing water using hot bubbles of carbon dioxide has been demonstrated by University of New South Wales, Australia, and Australian National University researchers to be effective and efficient at inactivating bacteria and viruses.
The process bubbles heated and unpressurized CO2 through wastewater in a bubble column, effectively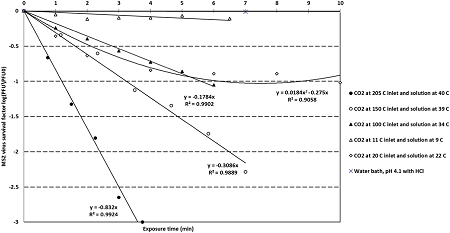 Inactivation of MS2 viruses at different CO2 inlet temperatures. Source: University of New South Wales/Australian National Universitydestroying any pathogens encountered. The technology is considered safer than chlorination and other chemical treatments, and less energy-intensive than methods dependent on directly heating the water. It also provides scope for reusing waste gases captured from power pants, landfills and other facilities.
To evaluate the treatment approach, researchers heated gas to different temperatures and bubbled it up through a sodium chloride solution that had been laced with E. coli bacteria and MS2 viruses. The sterilization capacity of CO2 was compared with that of air at temperatures of 7° C to 205° C (44.6° F to 401° F).
No antimicrobial effect was observed at low temperatures, and both CO2 and air proved more effective at higher heat regimes. However, CO2 consistently destroyed bacteria and viruses at a quicker pace and was most efficient at temperatures of 100° C to 205° C (212° F to 401° F).
At inlet CO2 temperatures greater than 100° C, the combined effect of CO2 sterilization and CO2 thermal inactivation increased inactivation rates for both pathogen groups. The researchers expect the new disinfection technology, which is described in Clean Water, to compete with existing treatment options.