Thermal stress maps speed drought prediction
S. Himmelstein | March 08, 2019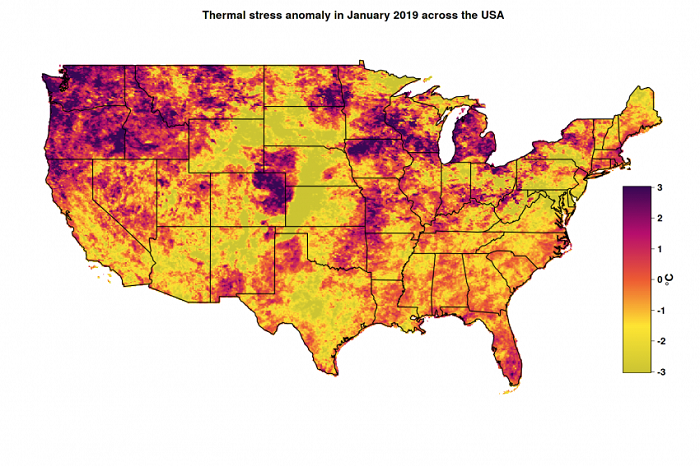 Monthly maps pinpoint locations across the contiguous U.S. where drought conditions may be occurring. Source: Duke University
Monitoring and predicting drought conditions are data- and time-intensive tasks that often do not lend themselves to real-time implementation of appropriate response policies. A faster approach to assessing wildfire risk, forest dieback potential and the need for water conservation measures has been devised by an international research team.
Drought onset can be evaluated by use of thermal stress indicators that use surface-plant canopy air temperature differences to signal drought-induced water stress in vegetation. The metric is based on heating of the canopy surface as plants reduce evapotranspiration under limited water availability conditions. Field measurements of evapotranspiration and thermal stress are combined with weather station and satellite imagery data to evaluate regional drought risk.
The method was tested in a retroactive analysis of drought conditions in the U.S. over a 15-year period. When compared with the use of conventional drought indices, the thermal stress approach returned the highest correlation with historical data. The technique is recommended for use at varying time-scales to monitor surface evapotranspiration and drought in large spatial extents in near real-time.
Monthly maps pinpointing locations across the contiguous U.S. where drought conditions may be occurring can be found on a publicly accessible website established by researchers from Harvard University, Northern Arizona University, Duke University and INRA-ISPA (France).