Study: Permafrost temperatures are heating up
S. Himmelstein | January 17, 2019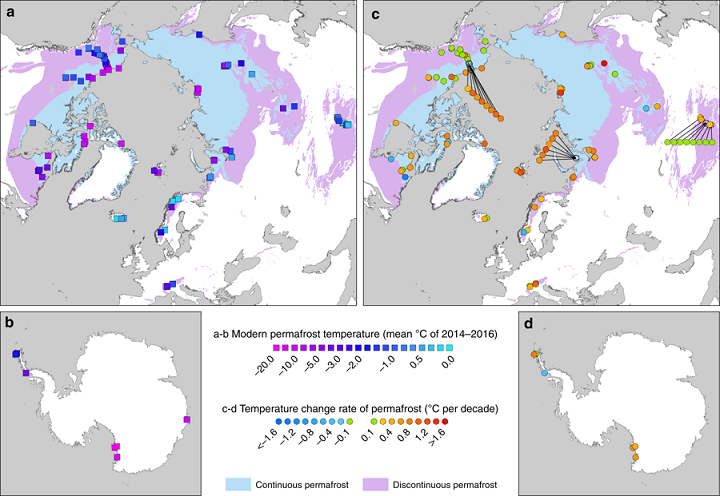 Permafrost temperature and rate of change near the depth of zero annual amplitude. a, b) Mean annual ground temperatures for 2014–2016 in the Northern Hemisphere and Antarctica, n = 129 boreholes. c, d) Decadal change rate of permafrost temperature from 2007 to 2016, n = 123 boreholes. Changes within the average measurement accuracy of ~±0.1 °C are coded in green. Continuous permafrost zone (>90% coverage); discontinuous permafrost zones (<90% coverage). Source: CC BY-SA 3.0
Permafrost, the ground which remains below the freezing point of water for two or more years, is estimated to cover one-sixth of Earth's land area and in some cases reaches a depth of 1.6 km. The survival of this component of the cryosphere is now called into question, as an analysis of more than 120 drillings provides evidence of permafrost warming.
Data obtained by the Global Terrestrial Network for Permafrost, an international initiative promoting homogenization of data collection on permafrost monitoring, show that from 2007 to 2016 soil temperatures of continuous permafrost sampled at depths greater than 10 m increased by 0.39° ± 0.15° C, while discontinuous permafrost warmed by 0.20° ± 0.10° C.
The most dramatic warming was observed in the Arctic, where soil temperature increased by an average of 0.3° C during the study period in regions with more than 90% permafrost cover. In Siberia, the temperature increase at some boreholes was 0.90° C or higher. Air temperature in these regions rose by an average of 0.61° C.
Warming was also evident in permafrost regions of high mountain ranges and in the Antarctic. The temperature of the permanently frozen soils in the Alps, in the Himalayas and in the mountain ranges of Nordic countries climbed by an average of 0.19° C. An increase of 0.37° C was documented in Antarctic boreholes.
Permafrost melting releases carbon dioxide and methane and accelerates global warming. The phenomenon also places roads, buildings and other structures built in these zones at risk.
Researchers from Alfred Wegener Institute Helmholtz Centre for Polar and Marine Research (Germany), Geological Survey of Canada, WSL Institute for Snow and Avalanche Research (Switzerland), University of Lisbon, George Washington University, Institut de Géographie Alpine (France), University of Alaska Fairbanks, University of Ottawa, Russian Academy of Sciences, Université Laval (Canada), The University Center in Svalbard (Norway), University of Fribourg (Switzerland), University of Oslo, Insubria University (Italy), Technical University of Denmark, Norwegian Meteorological Institute, Lund University (Sweden), Hokkaido University (Japan), Arctic Portal (Iceland), University of Lausanne (Switzerland), Free University Berlin, Chinese Academy of Science, Rhodes University (South Africa), University of Barcelona, Universidad de Alcalá (Spain), Stockholm University and the U.S. National Soil Survey Center contributed to this study, which is published in Nature Communications.