A Solar-Cider-Honeybee Complex Grows in Minnesota
S. Himmelstein | October 24, 2018
A sweet convergence among honeybee keepers, a nonprofit organization and a provider of solar power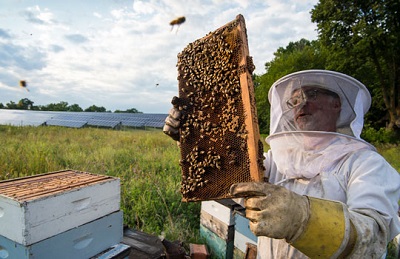 Source: IPS Solarsolutions is underway in St. Joseph, Minnesota.
Beekeepers are managing their pollinators on an IPS solar farm adjacent to Milk & Honey Ciders. The latter grows apples and combines the honey obtained by the beekeepers to produce its Solar Sweet Farm Cider.
IPS develops all of its solar farms to host abundant pollinator habitats while the Fresh Energy nonprofit identifies opportunities for solar farms to provide beneficial habitats for pollinators, including bees and butterflies.
The solar installation is a 6.51 MW DC fixed-tilt system with 19,440 solar panels spread over a 60-acre span. In its first year of operation, the solar farm produced 8.2 GWh of power, most of which supports local school districts and industries. The system also produces enough electricity to power about 1,040 average homes in the area.