Non-toxic Quantum Dots are Efficient Photocatalysts
S. Himmelstein | October 02, 2018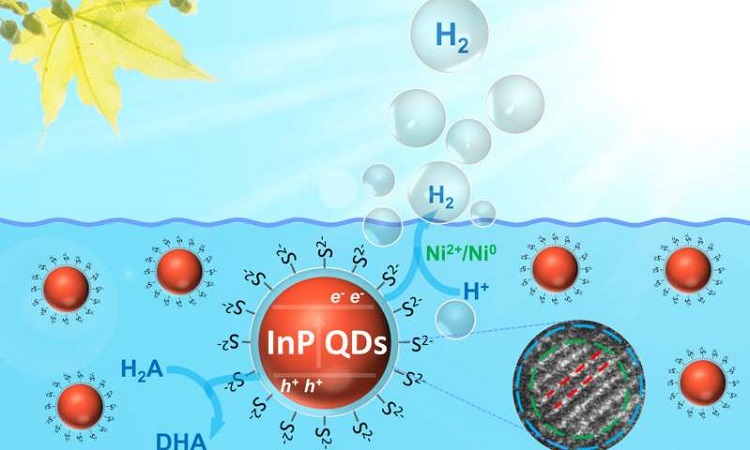 Schematic of photocatalytic hydrogen production with indium phosphide/zinc sulfide quantum dots in a typical assay. Source: Shan Yu, Southwest Petroleum University
Colloidal quantum dots containing cadmium are effective as photocatalysts for the production of hydrogen from water. But cadmium's toxic nature has prompted an international team of researchers to engineer a more eco-friendly photocatalysis agent.
The new 3 nm particles consist of a core of indium phosphide with a thin surrounding layer of zinc sulfide and sulfide ligands. These new composites are deemed more environmentally benign compared with cadmium-containing materials and efficiently catalyze the production of hydrogen from light and water.
The inclusion of sulfide ligands imparts good water solubility properties to the quantum dots, resulting in efficient photosensitizers for hydrogen evolution. The researchers noted that the new agent offers a suitable strategy for decreasing the number of intrinsic defects detrimental to photocatalysis with quantum dots.
The study, conducted by scientists from the University of Zurich, Southwest Petroleum University in Chengdu, China, and the Chinese Academy of Sciences, is published in Nature Communications.