A New Portfolio of Digital Manufacturing Solutions
Shawn Martin | September 18, 2018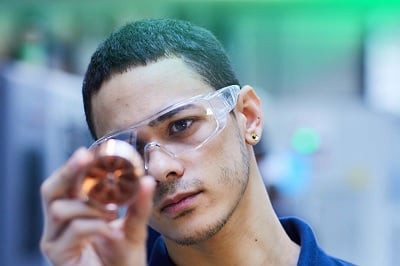 Source: AlltingIn-house developments, industry partnerships and acquisition of successful businesses have allowed Sandvik to launch a new digital manufacturing concept.
Allting Digital Manufacturing by Sandvik is a portfolio of digital tools that span the entire manufacturing lifecycle. It addresses value-added services starting with a quotation management services through to specialized inspection software. The concept was recently launched at IMTS 2018 and is composed of the following digital technologies.
µFab is a quotation management tool for machine shops. The resource helps manufacturers reduce lead times while improving quotation accuracy, allowing them to gain a competitive edge. It also operates on the cloud where all existing quotes are saved and easily found based on a specific part name, number, unique identification number or customer name.
TDM Systems is a tool lifecycle management solution. It manages production equipment, capturing and providing tool data and graphics for CAM and simulation processes and organizing metal cutting tools on the shop floor to support just-in-time machining.
Smart Supply is an innovative logistics solution. It monitors and controls consumables and returnable items in order to optimize stock value and machining efficiency.
Prism is a touch-based programming and simulation solution. It helps streamline CNC programming by incorporating machine learning and artificial intelligence. It can estimate project operations and tool path prior to machining operations. It helps users avoid unnecessary errors and limited programming knowledge is required to utilize the intuitive program.
Metrologic Group's measurement software is an excellent point cloud analysis software for 3D inspections. The group has developed more than 100 direct machine interfaces for a wide range of hardware including coordinate measuring machines, articulated arms, laser trackers and 3D optical scanners.