Despite Rich Resources, California Offshore Wind Faces Uphill Climb
Jonathan Fuller | September 18, 2018
The first U.S. offshore wind farm commenced operations almost two years ago, and the country's offshore wind industry has since made huge strides. According to the Department of Energy's 2017 Offshore Wind Market Update, published in August, the U.S. market has 1,906 MW of potential commercial generation scheduled to start by 2023, with over 25,000 MW of potential capacity over the longer term.
While most offshore development is taking place on the Atlantic coast, developers are also eyeing California's rich wind resources. The state's geography and military usage present special difficulties, however.
East Coast Concentration
Nearly two years of successful operations have made Block Island Wind Farm, located four miles from Block Island, Rhode Island, a boon for potential offshore wind developers. The $290 million project led by Deepwater Wind connects five 6 MW Haliade turbines to the town of New Shoreham on Block Island.
The project has performed well despite dealing with early turbine issues and a major late-season blizzard in March 2017. During the winter storm, the turbines performed as designed, automatically ceasing operations when wind speeds topped 70 miles per hour, and resuming once winds fell below an acceptable threshold.
According to the Offshore Wind Market Update, dozens of offshore wind projects now exist on the U.S. East Coast. Development stages vary from early planning to, in the case of Block Island Wind Farm, commercial operation.
Of all U.S. projects, only the 24 MW Fishermen's Energy in New Jersey is beyond permitting stages. But the project, which was announced in 2011, has been mired in controversy and will likely not take shape in the near future.
Fishermen's Energy forfeited $47 million in government funding after missing a power offtake agreement deadline in January 2017, and has been locked in a three-year dispute with the New Jersey Board of Public Utilities over project costs. The board is currently reviewing the project and is expected to make a decision whether to commence construction in the next several months.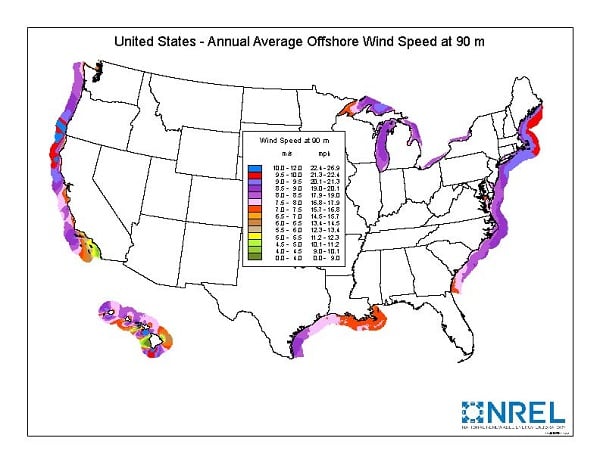 Offshore wind speed at 90 m above sea level. New England and California's north coast boast some of the richest offshore wind resources. Source: NREL
Wind resources in the Northeast U.S. are bested only by offshore areas in southern Oregon and northern California. The U.S. National Renewable Energy Laboratory classifies offshore areas from just south of Cape Mendocino, California, to central Oregon as "superb" for offshore wind potential. Southern California also contains more isolated offshore areas that could be prime locations for wind power.
A Complicated West Coast Situation
California currently has only one offshore wind project in development, but it would be a major one if completed. Seattle-based Trident Wind has proposed a 765 MW project off Morro Bay, roughly halfway between San Jose and Los Angeles. The company is currently in talks with local stakeholders, including environmentalists concerned about infringement into the Monterey Bay National Marine Sanctuary, as well as the Department of Defense.
The U.S. Navy is considered the primary gatekeeper for California offshore wind projects. The Navy and other branches of the U.S. military use federal waters off California for training and other activities. Developers eager to bring offshore wind to the West Coast experienced temporary discouragement in January, when the Navy released a map showing that it considered the majority of Southern California offshore areas "wind excluded."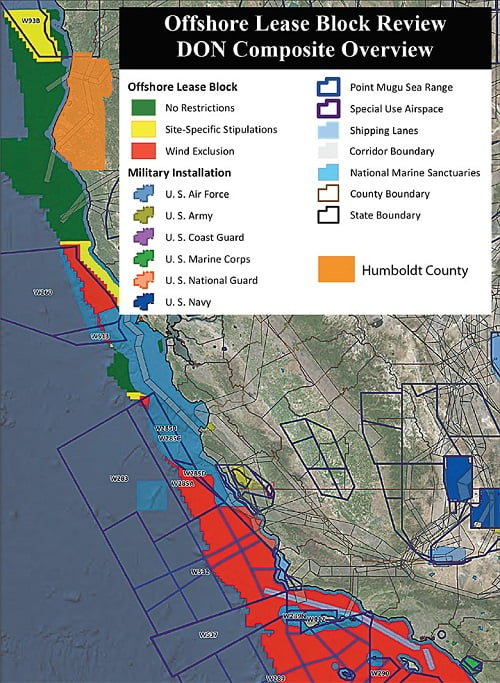 California's coastal waters host a complex mix of activities. This Navy map from earlier this year designates much of the wind-rich areas south of San Francisco "wind excluded." Source: U.S. Department of Defense
Since then, however, the Navy has proven willing to listen to proposals and participate in talks. The Bureau of Ocean Energy Management (BOEM) California Offshore Renewable Energy Task Force held a meeting on Sept. 17 in Sacramento to discuss offshore wind development. Stakeholders included officials from the California Energy Commission and Department of Defense.
Steve Chung, community plans and liaisons officer for the Navy's Southwest Region, reiterated that the DOD would continue discussions with wind developers, saying it is currently entertaining 22 proposed wind project sites off the California coast, including one in Northern California.
Officials were reluctant to give timelines as to approval of any wind projects. DOD Siting Clearing House Executive Director Ronald Tickle said relatively less-involved military activities in Northern California could mean quicker decisions about projects in that part of the state.
Chung said the myriad DOD activities in Southern California make permitting much more difficult than the East Coast, where the department has already greenlit over a dozen projects.
"There are space launches out of Vandenberg [Air Force Base], missile launches out of [Naval Air Station] Point Mugu, submarines – there's everything you could think of on this coast, which makes it very complex. And it is a little different than the East Coast. There's much more R&D activity that needs more of a pristine environment to find out what these weapons really do. But there are locations we're committed to studying in further detail."
The Sept. 17 meeting saw some tense questions from attendees concerned that the DOD will simply veto all Southern California projects outright, with good reason. In May, when asked whether Southern California offshore wind would be difficult to tackle, Chung said it is "beyond a hard nut to crack."
"I don't see any realistic, conceivable manner where we can find offshore wind to co-exist with the degree and complexity of operations that are occurring in Southern California," he said.
The situation in Northern California is more optimistic, if less far along with existing projects. Humboldt County, around 250 miles north of San Francisco, has some of the best offshore wind resources in the country and has provoked interest from wind developers and less opposition from the DOD. Last year, Redwood Coast Energy Authority signed a memorandum of understanding with Principle Power to explore development of a floating wind farm near Humboldt Bay.
A Key to California's Renewable Future?
Beyond permitting difficulties, California's geography is less suited for traditional wind turbines when compared to the East Coast. Turbines with seabed foundations require shallow waters, like the 25 m deep areas exploited by the Block Island Wind Farm.
California's coastal waters are considerably deeper. The area under consideration near Morro Bay is well over 500 m deep, creating the need for floating turbine foundations that are then anchored to the seabed. While smaller, floating turbine installations are being tested in Japan and Europe, they are considerably more expensive to build and maintain.
Costs associated with offshore wind have so far prevented wide commercial adoption. According to data from the Energy Information Administration (EIA), offshore's levelized cost of energy (LCOE) is projected to be $106/MWh for generation in 2022, the highest of all energy sources. Without factoring in tax credits, the estimate increases to nearly $127/MWh. For comparison, EIA projects an onshore wind LCOE of $37/MWh and $46/MWh for solar after tax credits.
A healthy project pipeline could reduce LCOE, however, to the point of widespread use of California's rich offshore wind resources. Late last month, the state's Assembly approved a bill requiring 100% renewable power by 2045. Offshore wind could be a major player in this effort, despite the major hurdles.