As Hurricane Florence Approached, Researchers Watched This Town Far from the Coast
David Wagman | September 12, 2018
As Hurricane Florence churned toward the Carolina coasts, civil engineers and planners at a dozen universities and the National Institute of Standards and Technology (NIST) were monitoring the fate of one place in particular: Lumberton, North Carolina, a town of 21,000 more than 75 miles from the coast.
In October 2016, Lumberton was inundated with more than 12.5 inches of rain as Hurricane Matthew stalled over the area. Following that, researchers affiliated with the NIST-funded Center for Risk-Based Community Resilience Planning chose the town to help them develop models that communities can use to plan for and recover from natural disasters.
(Read "Hardening the Infrastructure: Flood Management Controls.")

John van de Lindt, Colorado State University.In particular, the researchers are developing a "computational environment so that researchers can study community resiliency," says John van de Lindt, co-director of the Center, which is based at Colorado State University. The resiliency model is being built in part with data gathered from Lumberton and is intended to help policymakers and planners spend resources most effectively, and adopt sensible codes and regulations. Van de Lindt says that the model will help planners evaluate a business case that, for example, could call for moving structures out of a flood-prone area.
That scenario is no mere academic exercise. In June, the Federal Emergency Management Agency (FEMA) awarded North Carolina more than $17 million to fund eight projects to elevate, remove or reconstruct residences in Lumberton and other communities, which were affected by flooding caused by Hurricane Matthew.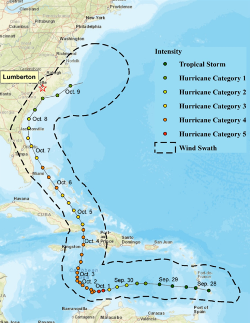 (Click to enlarge.) Map showing track of Hurricane Matthew and location of Lumberton, NC. Credit: Center for Risk-Based Community Resilience PlanningUnder the award, FEMA will pay 75 percent, or $17,599,146, of the $23.4 million cost of the projects. The federal share of the funds comes from the Hazard Mitigation Grant Program (HMGP).
Lumberton plans to use $12.8 million to remove or minimize future flood loss to 101 residences located in a flood hazard area. Plans call for 47 residences to be acquired and demolished, 20 residences to be elevated, and 34 residences rebuilt and elevated, in accordance with the county's Floodplain Damage Prevention Ordinance.
Altogether, FEMA has awarded $40.3 million in HMGP funds to the state as a result of Hurricane Matthew.
Similar relocation dollars were made available by FEMA for towns along the Mississippi River, which have suffered repeated and more frequent flood events. (Read "As Flood Events Increase, River Towns Take a Step Back.")
Levee Gap
The university and NIST research team selected Lumberton due to it moderate population size of 21,542 residents, the diverse socio-demographic makeup of three primary race and ethnicity groups (White, Black, and Lumbee Indian), and the fact that flood waters entered the city through a gap in the levee system that more than a decade earlier was found to not meet current FEMA regulations.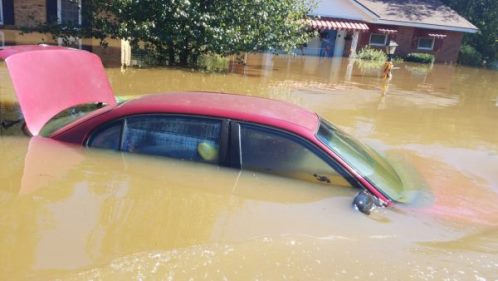 Flooded vehicle after Hurricane Matthew in October 2016. Credit: U.S. Coast Guard/Petty Officer 1st Class James ProsserResearchers have already completed two waves of data collection. Wave 1 took place in November 2016, just a month after Hurricane Matthew. Wave 2 took place during January 2018.
The first wave assessed the initial damage to physical infrastructure and disruption to the social and economic systems. Damage to housing was assessed through detailed engineering evaluations. Utility disruption, household dislocation, work and school interruption were assessed using random survey methods.
Wave 2 investigated the recovery process following the initial damage, dislocation, and socioeconomic impacts.
Social scientists on the research team look at three major factors to assess community stability, van de Lindt says: home, work and school. "The physical infrastructure has to support these institutions" as a community recovers, he says.
Initial findings from Wave 2 indicated that recovery was still in the early stages for all three factors. Researchers found that their survey instruments worked well in documenting community interdependencies and recovery progress. Work was beginning in August on a third wave of community assessment. And as Hurricane Florence approached, van de Lindt was finishing work on an initial report that is slated for release this fall.
In the days before Hurricane Florence's expected landfall, at least one disruption was already being blamed on the storm: the 2018 Carolinas Climate Resilience Conference, which van de Lindt had planned to attend in Columbia, SC, starting September 17, was postponed by its organizers.