Watch: New Device Improves the Diagnosis of Dizziness
S. Himmelstein | September 10, 2018
A common method of diagnosing the cause of dizziness is a VEMP test — vestibular evoked myogenic potentials. Sound stimulation is used to evoke a muscle contraction in the neck and eye muscles, triggered by a reflex from the vestibular system responsible for our sense of balance. The muscular response is measured to provide information on whether the disorders responsible for the patient's dizziness are in the vestibular system, or in its pathways to the brain.
One testing approach uses air-transmitted sounds and requires high sound levels, posing a risk of hearing damage. Lower sound levels are used in the bone conduction method, but the currently available equipment is large and difficult to use.
Researchers at Chalmers University of Technology and University of Gothenburg in Sweden have developed a VEMP device that works on the principle of bone conduction to trigger the vestibular system, avoiding unnecessary damage to the ears. The small, carefully tuned vibrator based on new transducer technology is placed behind the patient's ear, generating bone conducted sound at a lower frequency than has been possible before (around 250 Hz).
A maximum sound level of 75 decibels is emitted, which is 40 decibels lower than current air-conduction methods. Contractions in both the neck and the eye muscles are measured with standardized equipment, simplifying adoption of the technology.
The research is published in Medical Devices: Evidence and Research.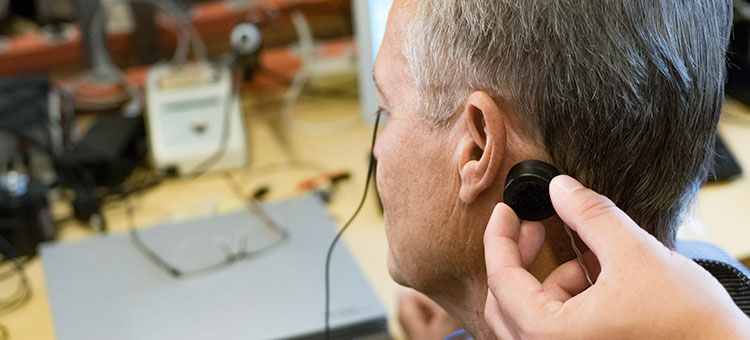 The vibrating device is small and compact in size, and optimized to provide an adequate sound level for triggering the reflex at frequencies as low as 250 Hz. Source: Johan Bodell