Researchers Outfit Robots with Spears to Protect Coral Reefs from Invasive Species
Marie Donlon | August 29, 2018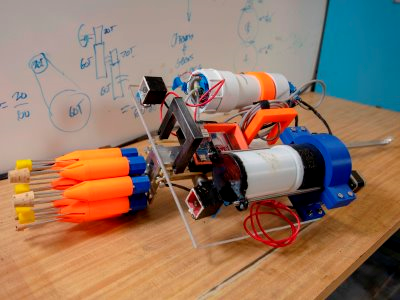 This view of the robot shows the eight orange spear tips mounted on the blue carousel, two small boxes just behind the carousel containing cameras, the electronics chamber behind the right camera, and the buoyancy chamber behind the left camera. Source: WPIResearchers from Worcester Polytechnic Institute (WPI) have developed a robot capable of "handling" an invasive species of fish that is a threat to both coral reefs and marine ecosystems, particularly in the coastal waters of the U.S. and the Caribbean.
Designed to hunt specifically for lionfish, the robot has been trained to distinguish lionfish from other species of fish using computer vision where the system is exposed to thousands of lionfish images. Once the robot determines that it has located a lionfish, it spears the fish.
Native to the South Pacific and the Indian oceans, lionfish — with their poisonous spines and no obvious natural predators beyond their native waters — are creating a significant problem in the Caribbean and the western Atlantic, which they are quickly overtaking. Such an explosion in this invasive species' population puts added stress on the already struggling coral reefs.
Likewise, the lionfish are proving disruptive to native fish populations, impacting those regions commercially, ecologically as well as recreationally.
As such, the team of students created the spear-wielding robot that attaches to an already-existing submersible robot. When the robot locates a lionfish, it aims one of its eight detachable and buoyant spears on the fish, which will, upon impact, bring the fish to the surface of the water.
WPI will continue to work on the technology, with student researchers specifically focusing on the robot's navigation system.