Robot Teaching Assistants Help out in Kindergarten Classrooms All Over China
Marie Donlon | August 29, 2018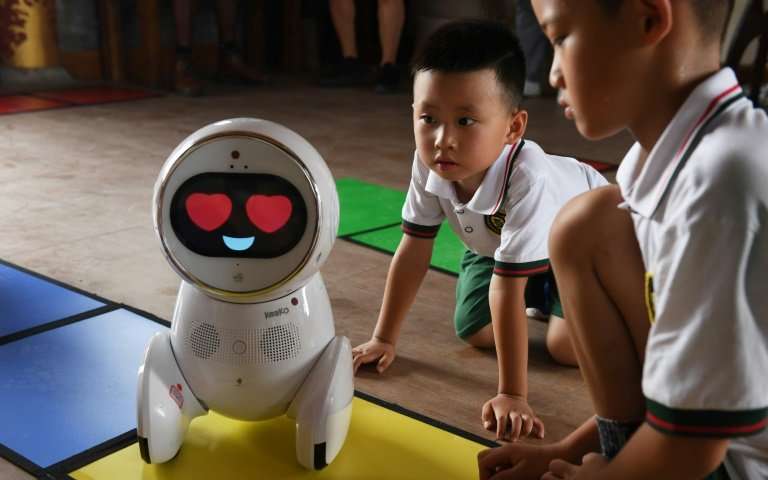 Source: AFPKindergarten teachers all over China have been introducing students to their new teaching assistant: Keeko, the autonomous robot.
Standing at just under two feet tall, Keeko can tell students stories and challenge them with logic problems.
The robot moves around on a set of small wheels and is equipped with both navigational sensors and a front-facing camera.
Keeko interacts with students by presenting them with stories and related problem-solving tasks. Whenever they accomplish a task or answer a question correctly, the student is met with a delighted response from the robot, which includes flashing heart-shaped eyes on its face display.
"Education today is no longer a one-way street, where the teacher teaches and students just learn," said Candy Xiong, a teacher now working with Keeko Robot Xiamen Technology as a trainer.
"When children see Keeko with its round head and body, it looks adorable and children love it. So when they see Keeko, they almost instantly take to it," she added.
Yet, those in the education field are quick to caution that it will be quite some time before robots can entirely take over the classroom.
"To teach you must be able to interact, have a human touch, eye contact and facial expressions. These are the things that make an education," said Xie Yi, principal of just one of the kindergarten classrooms where Keeko did the trial. "It's not just the language or the content, it's everything."
Still, added Xie, at a cost of $1,500 each, Keeko might outperform teachers in other ways, joking that the best thing about robots is that "They're more stable (than humans)."