Drug-resistant Bacteria Deactivation with Optical Fibers, UV Light
S. Himmelstein | August 24, 2018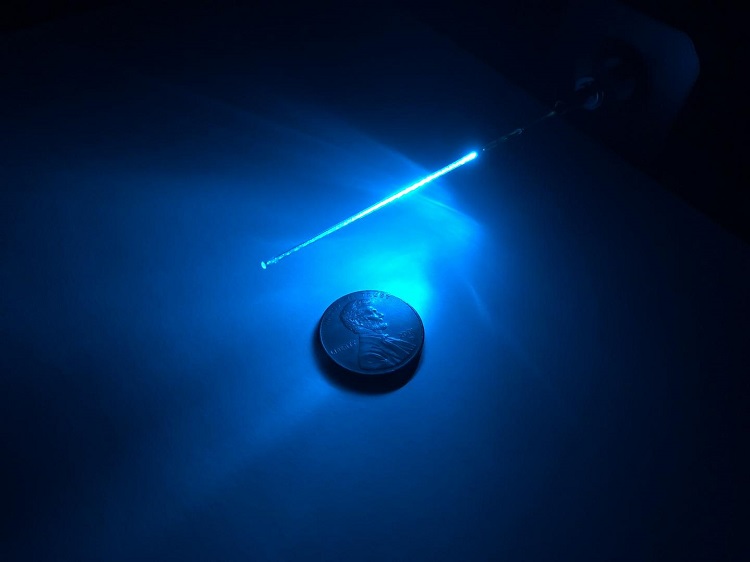 A single UVC light-diffusing optical fiber. Source: David Welch, Ph.D., Columbia University Vagelos College of Physicians and Surgeons
The implantation of catheters, drivelines for left ventricular assist devices and other skin-penetrating medical devices can lead to infection and complications that limit their long-term use. The most serious of these infections are caused by the drug-resistant bacteria methicillin-resistant Staphylococcus aureus (MRSA).
A new approach to combatting such infections, the technology is being advanced by researchers from Columbia University Vagelos College of Physicians and Surgeons. A specific wavelength of ultraviolet light delivered through light-diffusing optical fibers has been demonstrated to be highly effective at killing drug-resistant bacteria in cell cultures.
In a previous trial with a mouse model, a narrow spectrum of far-UVC light with a wavelength of 207 to 224 nm was observed to kill MRSA bacteria without damaging human skin. Conventional germicidal UV light, with a wavelength of 254 nm, is also effective at killing bacteria, but it can't be used in healthcare settings around people because it can harm the skin and eyes. Far-UVC light is safe because it can't penetrate the outer layer of dead skin or the tear layer of the eye, but it's deadly for bacteria.
The team next conducted a study to determine whether far-UVC light transmitted along a thin fiber could be used to disinfect complex tissue shapes, such as the area where a catheter or a driveline enters the skin. A laser was used to send 224 nm far-UVC light through thin flexible optical fibers laid directly over tissue cultures containing MRSA bacteria. The microbes were efficiently deactivated by the far-UVC light diffusing out of the fibers.
The results indicate that far-UVC light delivered by optical fibers incorporated into skin-penetrating devices could be used to prevent catheter-based and driveline infections.
The research is published in the journal PLOS ONE.