As Arctic Ice Recedes, a New Sea Route May Open
David Wagman | August 24, 2018
Danish shipping group A.P. Moller-Maersk says it will send a cargo vessel through the Russian Arctic for the first time as a result of reduced amounts of sea ice.
The new ice class container vessel, Venta Maersk, is set to sail on a trial journey in the Arctic route in September.
"I think it is important to underline that this is a one-off trial designed to explore an unknown route for container shipping and to collect scientific data — and not the launch of a new product," von Spalding said in an email reported by the Associated Press.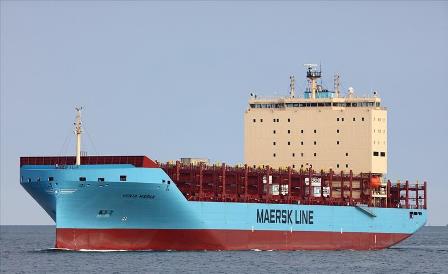 (Click to enlarge.) The Venta Maersk is slated to set sail September 1 with a cargo of frozen fish.The Northern Sea Route could be a shorter route for journeys from East Asia to Europe than the Northwest Passage over Canada because it could be free of ice sooner due to climate change.
Experts quoted by the AP say it could reduce the most commonly used East Asia-Europe route via the Suez Canal from 21,000 kilometers (13,000 miles) to 12,800 kilometers (8,000 miles), cutting transit time by 10 to 15 days.
The ship will leave Russia's Pacific port city of Vladivostok around September 1 with a cargo of frozen fish and sail to St. Petersburg where it is expected to arrive by the end of the month.
Ice breaker assistance will be available, the shipping company said.
Earlier Transit Attempt
In August 1969, the SS Manhattan became the first commercial ship to cross the Northwest Passage, which lies between Canada and the North Pole. Registered in the United States at the time, the ship was the largest U.S. merchant vessel as well as the biggest icebreaker.
Manhattan's route transited the passage from east to west via the Baffin Sea and Viscount Melville Sound. Heavy sea ice blocked the way through M'Clure Strait, so a more southerly route through Prince of Wales Strait and south of Banks Island was used. A single, token barrel of crude oil was loaded at Prudhoe Bay and then the ship went back.
The voyage prompted discussions in Canada about that country's sovereignty in the Arctic. The debate was rekindled as recent multi-year decreases in sea ice make ship transits likely in the future. A lingering question is whether the passage can be considered an international strait or not.